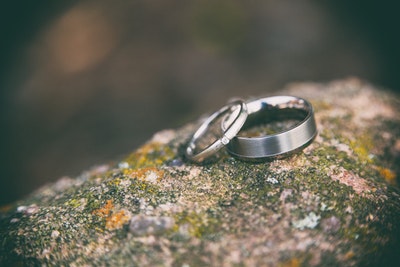 After months of dropping hints, your significant other has finally popped the questions. Congratulations!
Unfortunately, the hard part has just begun. Now that you have the shiny diamond on your finger it's time to actually start planning the wedding.
As exciting as this time in your life is, it's also extremely expensive. The average wedding in the US costs over $33,000! If you've started gathering ideas and pricing venus, you already know how costly certain things are.
One item, in particular, you'll have to start pricing is wedding rings. As couples begin planning their weddings, they typically set a maximum budget they want to spend.
If you're on a tight budget but still want a wedding ring that looks priceless, you've come to the right place. Below we've outlined how to pick an affordable wedding ring while sticking to your budget. Let's get started!
Pick a Budget – and Stick With It
The first step in picking out your wedding rings is creating a budget for them. As we mentioned earlier, couples usually make a budget they want to spend on their wedding. While their overall budget may be $10,000, they'll then break this down even further on how much they wish to spend on certain items such as a wedding dress, venue, and wedding rings.
Once you pick a maximum price point you wish to spend on your wedding rings, make sure you stick to it.
Buy Your Wedding Rings Online
Once you figure out how much you'd like to spend on your wedding rings, it's time to start shopping for them. The first place we recommend looking is online. While it's nice to see a wedding band in person, traditional jewelry stores charge 20% more for them than online jewelers.
By taking to the internet you can browse thousands of styles and metal types. The best part? You can filter this by price. This way you're only looking at rings which are in your budget.
Consider Your Metal Options
As you begin to browse online and generate ideas, you'll have to narrow down which type of metal you want. Most couples stick with more traditional choices such as gold and platinum, but those aren't the only options available.
Titanium and Tungsten
Although titanium is typically used for men's wedding bands, women can choose this metal as their wedding ring, too. Both titanium and tungsten are becoming more popular due to their hypoallergenic, scratch-resistant, and strong metal qualities.
Titanium, in particular, is also corrosion resistant and lightweight. If you want to add a personal touch to your wedding band, titanium allows for custom ring designs, too.
Cobalt Chrome or Argentium Silver
We mentioned above how popular a choice platinum is, but many couples are veering away from this option because of how expensive it is. If you're looking for a wedding ring which closely resembles platinum but without the price tag, cobalt chrome or Argentium silver are the next best options.
White cobalt chrome comes in a shimmering silver hue which is drawing a lot of attention due to it's similarities to other traditional metals. Plus, like titanium, cobalt chrome is a great option for adding customization.
Argentium silver, on the other hand, is made of a sterling silver alloy which has traces of germanium. This helps make the metal tarnish-resistant and durable.
Another great benefit of both these metals is their ability to hold their shine. You'll never need to re-plate them.
Koa Wood Inlay
An option which is a bit different than some of the metal wedding rings listed above is a Koa Wood Inlay. This is a titanium band with an inlay of natural koa wood. It gives the band a warmer, earthy feel and is unique in its own way.
This specific ring is handmade in Hawaii – they run for about $60 and up and have more than 1,600 five-star reviews!
Go Untraditional
If you aren't finding any wedding rings in the metal or style you want, there are some untraditional options you can consider which can still fit nicely in your budget.
Wedding Band Tattoos
A trend which took off several years ago has replaced wearing a wedding ring completely, though you'll still have to budget for it. Wedding band tattoos are a great alternatively to physically buying a ring.
This is something you and your significant other can design together and should run about the same or a little less than some of the above options we've already mentioned. This will depend on which tattoo artist you choose and how intricate you design the tattoo.
Engraved Wedding Rings
As classy and beautiful as simple metal bands are, there's nothing quite as romantic and personal as custom engraved rings. After you pick your favorite metal, you can pick a personal engraving to go on the inside or outside of the band.
More popular engravings consist of your partner's heartbeat or an audio wave of them saying "I do" or "I love you".
Get the Best Price
After all, you're researching, you've found a ring you love. Great!
You might be ready to hand over your credit card, but don't jump the gun. We have some tips on how to get an even lower price for your wedding ring.
Compare Prices
Now that you've found the perfect ring in the metal and style you want, it's time to compare pricing. If you opt to buy online as we suggested earlier, there are still tons of shops to compare pricing on. This varies from stores like Amazon to Etsy.
If you go the in-store route, the options are endless. Stores like Kohls, Macy's, and even Walmart offer wedding rings. To find the best price for your ring you'll have to compare pricing everywhere.
If you're torn between buying online versus in person, there are things to consider such as shipping costs and sales tax.
Buy During Prime Times
Once you find which store you'll be buying from, it's time to wait for the right time. Certain jewelers will mark down prices during the holiday season as part of seasonal deals.
You can still keep an eye on your favorite jewelers and be ready to pounce as soon as you see prices begin to lower at a particular store. This is more likely to happen around Valentine's Day, President's Day, Labor Day, and between Christmas and New Years.
Another time to start checking prices is during none other than wedding season which runs from late spring to early summer.
Cash Offers
If you aren't seeing prices drop below a certain amount, you can offer cash up front. Some jewelers offer a lower discount if you pay in cash. Another benefit of paying in cash is not having to worry about financing it the months ahead.
Affordable but Priceless Wedding Rings
There's no reason to spend a fortune on a priceless wedding ring when there are so many other options out there for half the cost. And the best part is you aren't sacrificing quality or beauty!
If you're looking for more wedding or finance tips, make sure to check out our website. Here's how to plan a winter wedding on a budget, for instance!