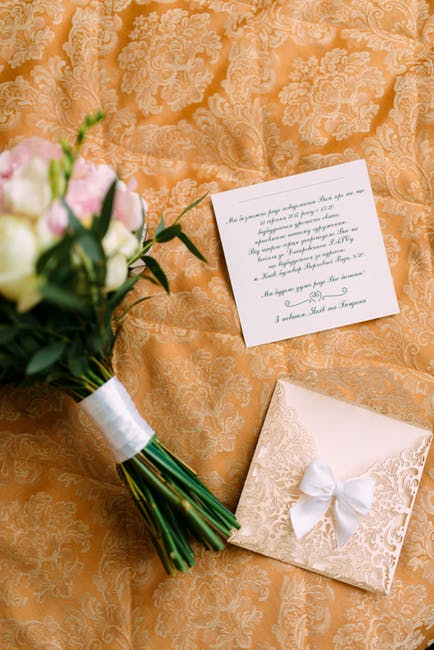 The average cost of a wedding skyrocketed from $27,000 in 2017 to over $44,000 in 2018! If don't have that kind of money to spend on your big day, you'll have to look for any way possible to cut costs.
Luckily, there are plenty of ways you can have a beautiful wedding on a budget. While finding cheaper alternatives for big-ticket items, like your dress and venue, is a huge help, don't forget to cut back on the smaller items too, like invitations and stationery.
Do you want to learn how you can get affordable wedding invitations that still look great? Keep reading to find out!
1. Go DIY
Getting professionally-made invitations can easily cost you a few hundred dollars. So, the easiest way to save big is to make them yourself.
You can find cheap or free templates for invitations and save the dates, and personalize them by changing the color and adding your information. Then, print them at home (if you have a printer that is able to print on cardstock) or take them to your local office supply store to get professional printing on the cheap.
2. Stay Simple
Many couples choose to take their wedding invitations to the next level by including pricey extras, like laser-cut tri-fold pockets, foil details, envelope liners, and wax seals. However, almost all of your invitations will end up in the trash right after your wedding.
So, instead of spending big bucks on flashy extras that will be quickly forgotten, forgo this cost and opt for a clean and simple design instead. If you do want to add something extra, consider tying a piece of lace or ribbon around the top. This is a pretty affordable extra, and it's easy to DIY.
3. Do Online RSVPs
When you send out physical RSVP cards, you have to pay for the cards themselves as well as extra envelopes and postage for your guests to send them back. Of course, you'll also have to take the time to write your address on each envelope or spend more on address labels.
You can save yourself all this hassle by doing online RSVPs. Most guests find this to be just as convenient as filling out a paper RSVP too!
4. Cut Back
Stationary sounds like it would be a small cost, but all those little items quickly add up. In order to keep costs low, cut back on non-essential stationery items, like programs and menus. You can opt to use a chalkboard, wood pallet, or anything else you have lying around to create a large program of events that everyone can see, and have people choose their meal when they RSVP online.
You may also want to only send save the dates to your closest friends and family members. Another great idea is to skip the extra "details" card in your invitations, and include a link to your wedding website instead. Guests can then find information on your registry, hotel block, and available transportation online.
Your Guide to Creating Affordable Wedding Invitations and Stationery
Don't spend a fortune on invitations and save the dates that will just end up in the trash! Instead, use the guide above to create affordable wedding invitations that still look amazing.
Are you looking for ways to save on your wedding dress too? Then check out our wedding dresses blog page today!