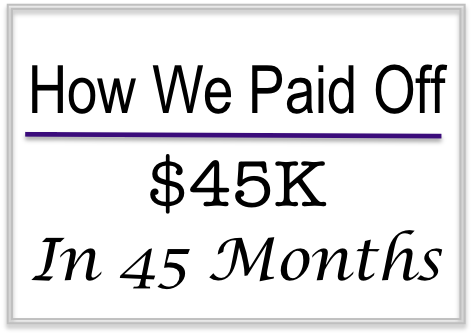 Here's the breakdown of how we paid off $45k of debt in 45 months of marriage.
The Debt
Because we got married after just three months of dating, we didn't take into account our financial situation until after we were married (not recommended!). This is the debt we had when we got married:
$26,500 in student loans
$13,500 in car loans
$5,500 in credit card debt
For a total of $45,500 in debt. We were some broke-ass newlyweds.




The Setbacks
We vowed that we would do everything to get ourselves out of debt. We have managed to pay off all our original debt despite these hurdles:
The Sacrifices
In order to work on paying down debt, we:
Thanks to these sacrifices and extra jobs, we have paid off $45,500 in 45 months! Currently, we have $8250 left in student loans that we accumulated in the past year for my husband's school. It is 0% interest, so we have the money sitting in the bank, but choose to accrue the interest on the money until it is due.
***
In 2014, our goal is to SAVE and Have FUN.
We have committed to saving $30,000 this next year–let's see if we can do it!
Here's a breakdown of the debt we've paid off:
The Timeline
April 2010: We got married, and had a little over $45k in debt combined
June 2011: $31,584.96
November 2011: Paid off our car!
January 2012: $24,998.29
March 2012: Paid off our credit cards!
March 2012: $22,061.79
September 2012: $20,015.19 Paid off first student loan!
October 2012: $18,696.10 Paid off second student loan!
December 2012: $18,248.01
April 2013: $16,092.79 Third student loan paid off!
May 2013: $13,788.01 Fourth student loan paid off!
June 2013: $6,624.33 Fifth and Sixth student loan paid off!
September 2013: Add 0% interest loans for Eric school
October 2013: purchase new fridge with 0% interest store credit card
January 2014: Pay off the rest of the debt