New job, new income, new budget.
I know you all have missed my color-coded pie charts, so here we go. This is what our new monthly budget looks like. This is the very first month it is going into effect, so n a couple of weeks I'll be able to see how we did.
2011 Budget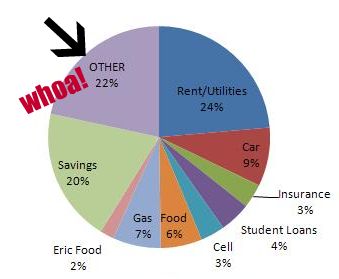 When compared to our budget before, you'll notice some big differences, such as the elimination of credit card payments and the jumbo contribution to savings–we're actually going to be able to double our contributions to savings and I'm hoping we'll be to contribute even more, but I don't want to push it just yet. We just got rid of credit cards, I want to have a little bit of breathing room before we start feeling like we have to live like paupers again.
The other big difference in our budget this month is the OTHER category.
Traditionally, we've used the OTHER category for all that "other" stuff, like dining out, home projects, clothes, Bentley's food and grooming, etc. We almost always went over budget in our OTHER category, but at least having a budget helped us minimize the spending. And while the percentage is about the same as before, the new income has added a notable amount of money to this category–and I'm just not comfortable having all this money floating around.
This time, it seems that our biggest problem is we have too much money left over at the end of the month. I know, right, how can you have too much money?
Well, the issue is more that when we don't actually budget every penny, the "extra" money seems to float into the abyss on Starbucks, fast food, mani-pedis, ice cream…I mean, pretty much any impulse purchase that catches our eye. I think we've been doing a lot of wasteful spending lately and it's time to nip it in the bud—while still allowing ourselves chances to have fun.
Which is why I decided to break down the OTHER category and budget it so that we can eliminate wasteful spending.
OTHER BUDGET
While we still have unaccounted for money (27%!), at least it's smaller than before. I've also added some of this money to go toward two new savings accounts–a Travel fund for that much-anticipated honeymoon trip in August, and a $1,000 emergency fund for …emergencies. These will be in addition to our DON'T TOUCH jumbo savings account.
How much money do you guys usually have "leftover" at the end of the month? What percentage do you budget for the "OTHER" category? What do you think is a comfortable amount for an OTHER category?