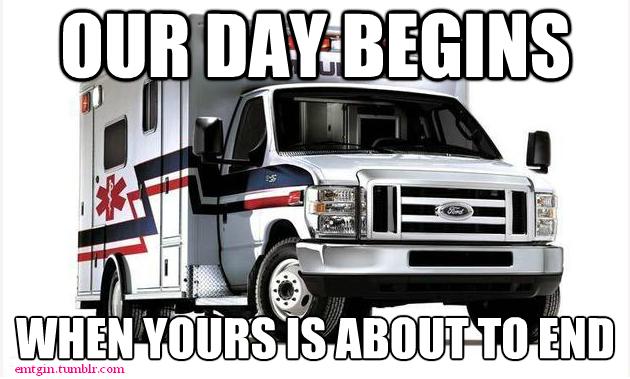 Pity, party of one? Pity, party of one??
Yes, that's me! Right here!

If I haven't made it clear enough, I hate Eric's job as an EMT. Hate, detest, abhor it. I make no attempts at hiding this fact, but I do try and be supportive and keep the bitching to a minimum.




But seriously, what is there to like about 24-hour shifts? Mostly on the weekends? And add in studying for firefighter examinations , flying to firefighter tests, and any other extra training or assignments he has to do, and all I get left at the end of the month is the possibility of maybe one whole day together if I'm lucky.
It's not a like doctor's or a lawyer's wife where at least I'd have the cushy income to console me for the fact that I never get to see my husband for more than 4 hours at a time.
For example, this past weekend, I had a whole four days off. Four WHOLE days! I work a 9/80 schedule so I had Friday off, and so did Eric, and for over three weeks I had a Husband Wife Day planned. And what ended up happening? Well, of course Eric waited till the very last day of his five days off in a row to do some fire-related thing, which ended up taking up all of Husband Wife Day. We didn't get to do anything couple-related.
Then he had to work Saturday and Sunday. Luckily (and I say luckily in the most sarcastic way possible), he had Monday off so we were able to enjoy a BBQ with friends before he began working another 48-hour shift Tuesday and Wednesday. And yes, he works this Saturday, next Saturday…the list goes on and on. In the whole month of June, there is about 2 days we may get to spend together and that's only because we haven't gotten his work schedule yet.
And before you all start pitying him and forgetting that this is a pity party for me, let me just point out that he did have 5 days off in a row just last week (on all the days I worked) and he wasn't even supposed to work on Sunday but ended up switching with a co-worker who had asked to trade and didn't even ask me about it beforehand (because he knew I would have said no)! So there!
It gets tiring sometimes of having to be supportive all the time. Of having to say "it's okay you can't go with me to this or that," of spending all your weekends on your own, and sleeping in bed with your dog instead of your husband. And sure, I have family and friends, and I run a ton of errands on weekends, but that doesn't make up for the fact that I get sick of being virtually alone all the time. All by myself. Just lil' ole me. *sniff*
Sometimes I just want to scream out "What about me?! When is it going to by my turn, huh?" "I miss you" texts and goodnight phone calls can only go so far…
And then I recall the wives of the men serving in the armed forces–the reason we even have a memorial Day to begin with. And there really is just no comparison. I don't know how they do it, and I'm grateful that I'll never have to find out because they make the sacrifices for us. I know the ones serving are the ones who are doing the "real job" but I think the wives (and some husbands too, of course), are the ones who sacrifice the most.