This post is about bacon fat. And how it started a war. Between me and my husband. You've been warned.
Eric has this disgusting habit of putting bacon fat into coffee mugs. But I should preface this statement by saying that he doesn't put the bacon fat into just any mug. Oh no, he always manages to put the bacon fat into my mug.
There are many things Eric and I share, but coffee mugs are not one of them. You see, I like all my mugs to match. Eric likes all his mugs to not match. Something about character, he says.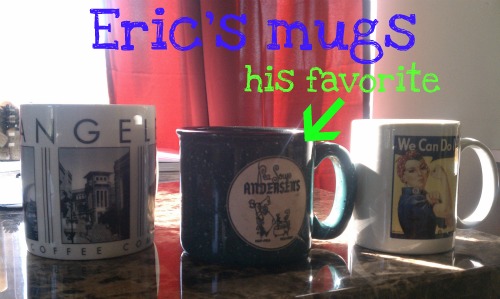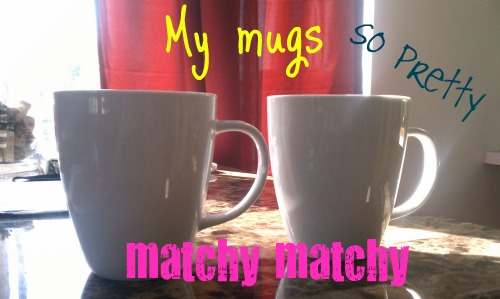 <Eric note> Erika has about four of the same type and style of mug.  I have ONE! JUST ONE MUG that I use everyday.  It is a green Pea Soup Anderson's mug.  That is why I always use one of her four mugs for the bacon fat. <end note>
Back to me now (Erika), while Eric is right that I have four mugs, and he only has one that he uses daily, he also has other mugs that neither of us really use but that he refuses to get rid of. Why can't he use one of those mugs, huh?
<Eric note> I have two other mugs! And I don't even use them,  they are GUEST mugs! <end note>
And again, back to me, if they are guest mugs, why couldn't he use one of those?
Anyway, back to the war. Like I said, Eric always puts the bacon fat in my mug. Because you can't pour it down the drain, and you can't pour it in the trash can because it will burn the trash bag–and Eric refuses to do what I do, which is to let it solidify before taking a napkin or paper towel and wiping it off and into the trash can.
So he pours it into my coffee mug…where it solidifies and then I have to dump it out and wash it and it's all greasy and takes forever to get clean. Don't ask me why I always end up washing it and not Eric–it just happens that way.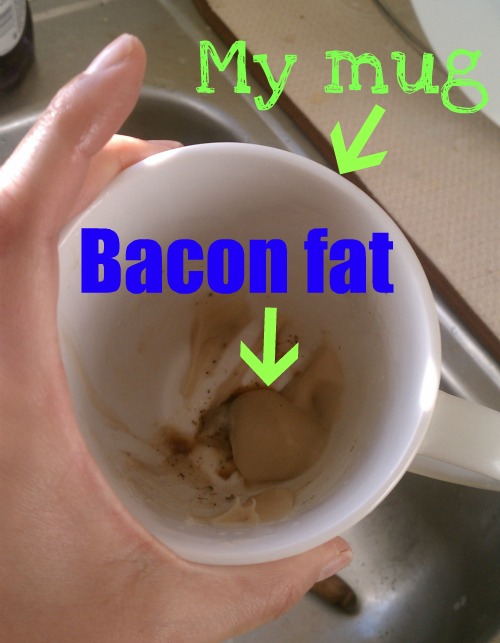 So, a couple of days ago, he made bacon. And he put the bacon fat in my mug. And I started washing dishes. And I saw my mug with the bacon fat. And I told him yelled at him "Stop putting bacon fat in my mug! It takes forever to wash and use your own mug if you're going to put it in there!"
And you know what he did?
He laughed at me. That condescending little laugh that says "oh yeah?"
So I did what any normal irate wife would do–I scooped out the bacon fat, grabbed his favorite mug, and slithered it all around.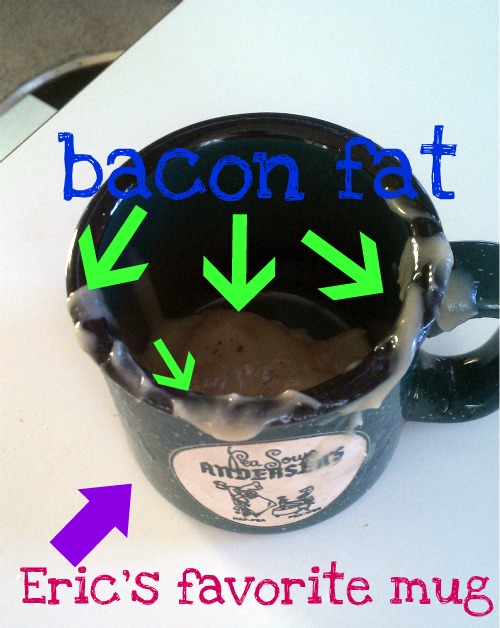 Let me tell you, he wasn't laughing anymore.
Then ensued the bacon fat war. He grabbed the bacon fat, and put it on my back. I screamed. I grabbed the bacon fat and chased him around our love shack. Obviously because it's a loft, there weren't many places to go, but I trampled him on the stairs and rubbed some bacon fat on his leg.
He then took it too far. He grabbed the bacon fat and smashed it into my face.
And this is how we spend a Friday afternoon. How was your weekend? What kinds of ridiculous fights do you get into with your significant other?