…because I clip coupons.
The other day, some co-workers of mine were having a conversation about a former employee who would always take coupons to restaurants. The tone of the conversation was one of mockery almost. And in my mind, I was thinking "what's so wrong with wanting to save a little money?" But there is a line between being frugal and being cheap–and no, they are not the same thing. I would never want to come across as cheap and so I see the inappropriateness of someone who (as they stated) hated going out to eat unless she had a coupon.
I see myself as definitely more of a frugal person. I actually enjoy clipping coupons, and bargain shopping, and by saving money on my grocery budget, it allows me to use those savings toward other things, like a certain vacation.
Just because someone clips coupons doesn't make them a cheap person, but rather money conscious. And in this kind of an economy, that's a good thing. I will admit I feel some sort of embarrassment when I hit the check-out counter and always say a silent prayer so that no one will get behind me in line, but ultimately, the embarrassment is worth it to save more than 60% on each shopping trip.
I always seem to shy away from speaking up about controversial topics– such as religion, politics, and now couponing–in the workplace because I don't think it's appropriate. However, my co-workers don't seem to have an issue with speaking their minds about any of these subjects. Maybe I need to stand up for myself and my opinions more? Or maybe they're just in the wrong for being so vocal and I should keep to myself?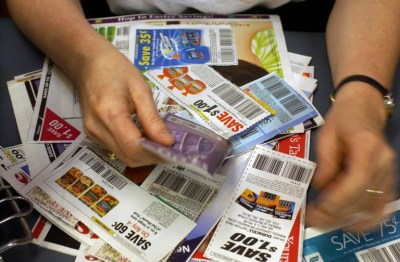 pic found
here