How do you split the chores in your household? I am starting to think that we need a household job chart or chores list.
For the past five months, while Eric was in school, I was doing pretty much everything, while he studied. Now that he is back to working a full-time job, I think it's time to re-evaluate who does what and find a balance.
There are some things I just didn't appreciate about being the full-time breadwinner and the full-time housekeeper…
…like this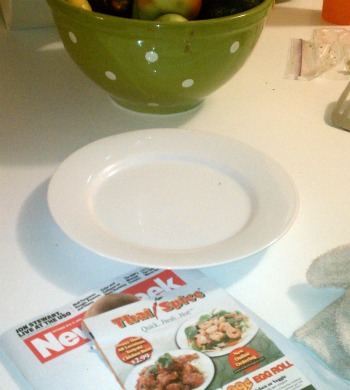 …and this…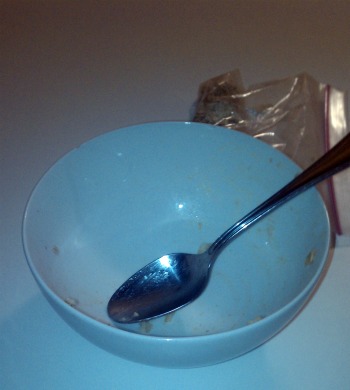 …and this…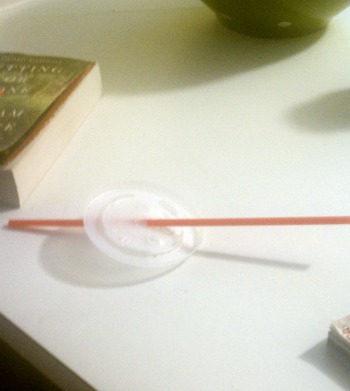 So let me get this straight:
I'm doing everything while you study and further your career and you don't even have the common courtesy to put your own dirty dishes in the sink so that I can wash them or throw away your own trash? And you expect me to clean up after you?
What am I –the freakin' maid?
So of course, it was only fitting, that last week–on his first week off since September–while I went to work, he became Mr. Wife.
He made my breakfast, prepared dinner, went grocery shopping, did the laundry, cleaned the house, vacuumed, walked the dog, washed ALL the dishes, and worked hard on his honey-do list.
Sure things didn't exactly go off without a hitch…for example, there was that moment when he went grocery shopping for probably the third time in our marriage, spent $22…and forgot to pick up anything for dinner that night. Lesson learned, right?
As wonderful as it would be to have him do everything for five months–you know, just to make it even–I decided to be nice and come up with some sort of balance for the upcoming year. I think a household chart would help.
A big excuse that Eric has liked to use in the past is that he works 24-hour shifts, so he's tired on his days off. But let's be clear right now–he's going to be a firefighter. He will always work 24-hour shifts. This does not justify a lifetime excuse, in my humble opinion, for not contributing to the household chores.
Here is the daily and weekly chores list:
Grocery Shopping
Walking the dog
Cooking dinner
Balancing the Checkbook, Paying the bills
Laundry
Vacuuming
Washing the dishes
Cleaning the bathroom
Things we find hard to split
Walking the dog. On the days that Eric works 24-hour shifts, I have to walk the dog in the morning and in the evening. So I feel that on the days that Eric is home, he should walk the dog. But he feels as if he never gets a break because he always has to walk the dog when he's home.
Washing dishes. Should the rule be "You cook, I clean" or should we simply take turns washing dishes no matter who cooks?
Weekly tidying and upkeep, like dusting and wiping and mopping the kitchen floor. I like to clean on my Fridays off because it helps me relax better when everything is clean. So should Eric clean on the weekends when I don't have a Friday off? Or should we designate 30 minutes each week to clean?
I have to do the budgeting and grocery shopping because a) I enjoy it and b) Eric sucks at both of those things. So I think Eric should be in charge of the laundry in exchange. What do you think?
Who does what in your household? How do you split the household chores between husband and wife?