So I signed up for a one-month free trial on Netflix because I don't like to turn down anything free. They asked me to rate movies I've seen and all that jazz and they're super awesome intelligent computers are supposed to give me recommendations based on what they think I would like.
And this is what popped up: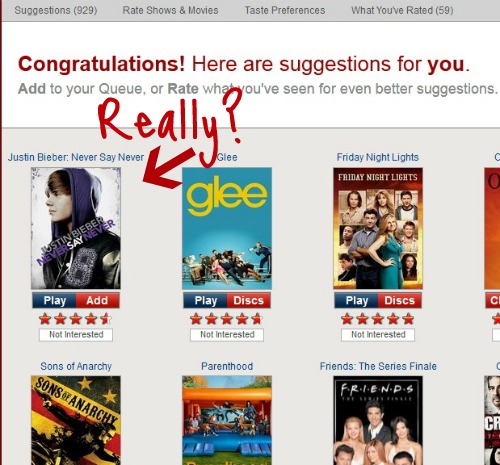 I
I don't know HOW Justin Bieber was able to take the number one spot. Just because I gave The Little Mermaid 5 stars doesn't mean I have only teeny bopper taste, okay?!
Not only that, I'm kind of disappointed in all these other picks–I've never watched Glee (I know), or Friday Night Lights, I've never even heard of Sons of Anarchy, or Parenthood. Friends–Finally! Something I like.
I'm disappointed Netflix. Way disappointed. I don't see us continuing our relationship for $17.99 after 30 days.
Thank you to the follow carnivals for including us!
Yakezie Carnival at Tackling Our Debt
Carnival of MoneyPros at Money Reasons
Carnival of Retirement at The Frugal Toad
Carnival of Financial Camaraderie at Canadian Personal Finance