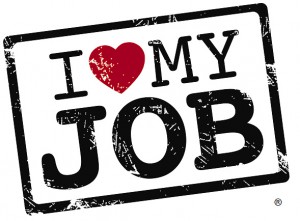 If there's any piece of advice I would offer a recent college graduate, it would be this: Don't believe the hype; you don't have to love your job to be happy.
Your end goal should be to find a job that will keep you happy enough, while providing you with the money that is necessary to do the things that you want in life.
Before deciding on a career, come up with a plan that determines where you want to be in life.
Do you want to retire early?
Do you want to travel every year?




Planning, branding yourself, and researching which careers can help you attain your financial goals is much more important than finding something that you love to do.
I'm not sure where this idea came from–that you had to love your job in order to be happy. It sure is an optimistic idea. Wouldn't it be great if everyone loved their job and we would all look forward to spending our time working and the world would be filled with rainbows and butterflies.
But how realistic is it?
Is it physically possible for every single person on this planet to love their job? Frankly, there are jobs that need to be done everywhere in the world and they may not be the most pleasurable of jobs but they need to be done, right?
Like meter maids. Everyone hates meter maids. Maybe there are some meter maids that love giving people meter tickets, but for the most part, have you ever met a happy meter maid?
I always get kind of annoyed when I read articles about the importance of finding a job you love or when I hear advice about "if you find a job you love, you'll never work a day in your life."
Why can't it be enough to have a job that is just okay? Is not enough to have a job that pays your bills? That perhaps lets you afford things that you love to do?
I am not talking about hating your job. Nobody wants to work at a job they hate, but can't there be a happy medium between loving and hating your job?
For example, I like my job. For the most part, I like my co-workers and I like what I do.
But do I love it? Do I look forward to being at work at 7:30 every morning? Would I do it if they didn't pay me?
No, absolutely not.
My job allows me to afford things that do make me happy, like traveling. My 9/80 job schedule allows me to have three-day weekends every other week, which I love. My company pays me to bike to work, which I love. My job allows me to retire at 55 and receive a pension, which I love. My job pays for graduate school, which I love.

So is it enough to think your job is just okay but love what it allows you to do on your time off?
My ultimate dream job would be to travel and review local alcoholic beverages and blog about it but so far I haven't found any takers.
Do you love your job? Are you okay with not loving your job?