I know I'm crazy. Every day, I'm thankful that I married a man who is extremely patient and puts up with me, because I'm a freakin' handful and if I weren't me, I don't think I'd want to hang out with me either.
I woke up two Fridays ago excited for the weekend. That morning, Eric had texted me and told me that he had switched his 24-hour Saturday shift at work and would be spending the weekend with me instead. Eric and I rarely get a whole weekend together, so when we do, it's a treasured thing.
I had a little extra pep in my step the rest of the morning as I got excited about all the things we'd get to do that weekend: go to Costco, walk around Whole Foods, take Bentley to the dog park. We're married; what do you expect?
That Friday afternoon, I got another text from my husband: "I forgot I was invited to a bachelor party in Vegas this weekend and they're leaving in an hour and they're asking if I can go but I'm not going to go."
I stared at my phone, and thirty seconds later, I received another text:
"Can I go for just one night? I'll be back tomorrow night."
Eric doesn't get to go out much with the guys. Between work, school, family and our mutual friends, he rarely has any guys-only events—unless you count that time he went hiking with his friend on our three-year anniversary while I was at work after I spent months begging him to take me hiking.
I digress.
Eric doesn't do a lot of guy things, so wanting to be super-hero wife, I was all like "Sure." It was one night, he'd be back tomorrow, and we'd still get to spend Sunday together. He would drive out with friends, and fly back Saturday night using our Jetblue points.
All was well.
Saturday afternoon, I receive another text. "Is it okay if I stay? We're having so much fun. The guys are  leaving at 8 am and we'll be home by 1 pm." There was more to it, but the memory is hazy.
Again, I wanted to be superhero wife. I wanted to make my husband happy. And even though it sucked a lot to be alone an entire weekend, I figured, he never goes out—what's one weekend?
Of course, as I spent the evening alone, wallowing in my misery, I started to get really upset. And by the next day, when he didn't arrive until 5 pm, I was flat out furious.
You see, Eric had worked a 48-hour shift before he left. The last time I had seen him was on our anniversary Tuesday night. And it was now Sunday night. And he was starting a 72-hour shift the very next day. So in a span of 9 days, I would see him a total of three hours.
Add to that, a $600 charge on our credit card for a table at the MGM pool and I was ready to eat him alive.
I was not a happy camper. And as much as I wanted to enjoy the only three hours I would spend with my husband in a nine-day span, I was just too hurt and angry. I turn into a total two-year-old when I'm hurt. I act like I'm angry and I throw a tantrum, but in reality, it's just because I'm crazy hurt.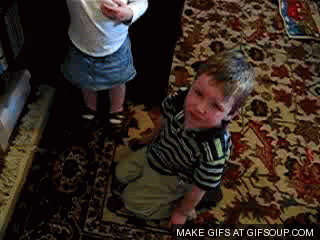 Anyway, the next morning, after he left for work, I would be really mean and text him mean things as they would pop up in my head, like "I thought you said you were going to be home at 1 pm, and I found your bank deposit slip from Vegas and it said you deposited money at 12 pm! You didn't even leave Vegas til 12, you liar!"
I probably took my texts to the extreme, but again, this was hurt (and okay, crazy) Erika talking. But here's the thing about me: I can't stay mad at my husband.
During some of the biggest arguments we've had, I've always gone to bed angry, thinking "I am not going to talk to him for an entire week! I am going to make him pay for this one!" and I will just be mad, mad, mad.
And even though I was mad the very next morning, by 11 am, I threw up my white flag and put my big girl panties on. I surrendered. I texted "It takes too much effort to stay mad at you. I am just really, really hurt."
(And yes, we text a lot because we're both at work a lot. Sometimes we have our best discussions over text).
By that afternoon, Eric texted me and told me he booked a swanky hotel room in San Diego for the weekend and we were going to have "husband-wife reconnect time".
I cannot tell you how much fun we had this past weekend. We spent pretty much every single minute of the weekend together and had an absolute blast. Reminded me a bit of our one-year anniversary trip to San Diego.
I remain incredibly thankful that I have a husband that puts up with me—but to be honest, he kinda needs me too ; )
Have you ever been a crazy wife?