For my generation, it was our Pearl Harbor. Our D-Day. Our "Where were you when Kennedy was shot?"
The morning of September 11, 2001, I was a senior in high school on the West Coast just waking up when I heard the news.
As the morning wore on, it hit me really hard and I found myself sobbing. My mom was supposed to be in Boston that week for work, but had rearranged her plans to go the following week so she wouldn't have to miss my brother's birthday on 9/15. She would have flown into the same airport as the terrorists, and she would have been stranded for a week when all air activity was suspended following the attacks.
My friend's aunt actually worked in one of the towers. Her aunt called her family when the first plane hit, to let them know it had hit the other tower and that she was okay. The line went dead while they were still talking, and they never heard from her again.
I actually visited the World Trade Center site in October 2002, just a year after the attacks. The place was a pile of rubble and dirt.
One of my first assignments as a reporter–my first job out of college–I was supposed to attend a 9/11 memorial event and interview a dad who was commemorating his daughter, who had died on one of the planes that hit the tower. She was 22 and had just graduated Boston College. She had stayed in Boston for the summer to complete an internship.
Doing this interview really hit close to home, as I had attended school in Boston and often flew home by myself. I can't imagine being on a plane home that was hijacked and coming to the realization that I would never see my family again.
***
When Eric and I visited in May, the site was one of the first places we wanted to see.
The most powerful room in the World Trade Center museum was the room filled with the photos and fliers of families looking for their loved ones. I remember seeing all these posters on TV, but there was still a sense of distance from the actual photos themselves.
Standing in that room, surrounded by fliers of "Have you seen this person?" and photos…well, I still tear up at the thought of it. The photo of the father with four kids at the beach. The photo of the mom holding a newborn. The pregnant woman. It is awful to see such a loss of life.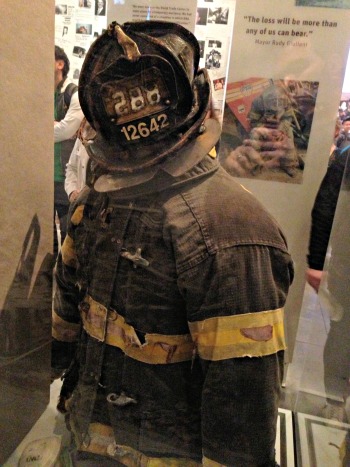 The museum was filled with artifacts, including a window frame from one of the planes and this fireman's coat and helmet that was found in the wreckage.
With Eric's job as an EMT and aspiring firefighter, this particular artifact hit a little too close to home. I have always told Eric not to be a hero. While the idea of Eric losing his life on the job has occurred to me in glimpses, it is something I try to never think about. All I can do is make sure I always kiss him goodbye before he leaves for work.
I still can't really have a full-on discussion about that day without feeling my throat tighten up.
Eric and I were there the week that they were putting the spire on top of the new World Trade Center. Overall, it was really amazing to have this experience and I think the museum did a good job of honoring the lives lost.
For me, I know I will never forget.
What was your 9/11 experience?
Join our newsletter
Get the latest content straight to your inbox.