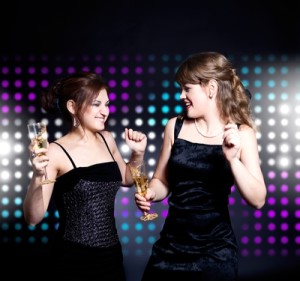 A few girlfriends and I had a Girls' Night on Tuesday with my friends and I didn't get home til 11 pm. On a weeknight!
And I had such a good time.
As most of you know, I'm an old lady when it comes to staying out past 10. I left a concert at 10:30 because I was ready to pass out…
I was pretty stressed this past week. I've been nonstop busy at work, I have a 15-page paper due for my class, and I've had no desire to do anything really.
So when someone suggested Girls Night, a part of me just felt like it was one more thing I had to do.
However, I forced myself to go. And I'm so glad I did.
What is it about talking to other women about nothing and everything in general that is so stress-relieving???
We seriously talked so much and the conversation just kept going. Most importantly, when we started talking about our lives and personal experiences, I realized how normal I am–something that I don't feel very often. For example, I realized:
My husband is not the only husband that can't seem to keep his clothes off the floor or is unable to put away clean clothes.
I am not the only wife that has had to financially support her husband while he built his career. In fact, out of the five wives there, four of us are still the primary breadwinners even after several years of marriage.
All families have some sort of drama.
Wine and chocolate can solve almost anything.
The best part too about Girls' Night is that usually when I get home after a few hours of nonstop talk with my friends, I'm in such a better mood.
Are you a fan of Girls' Night? 
Also, check out some of my guest posts:
Paying off debt when you're broke
Three ways we got out of credit card debt
International Day of the Girl and How You Can Help
Ideas for Cheap Halloween Costumes