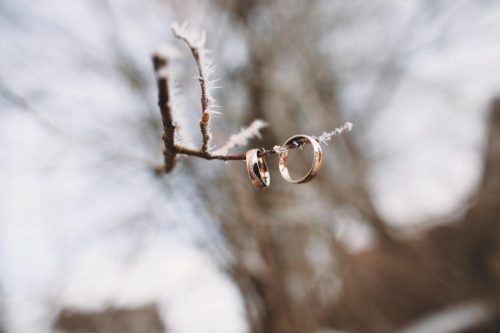 Did you know that, in a 2017 survey, it was discovered that 96% of brides found planning their wedding to be stressful? And half of those brides found it extremely stressful.
From the dress to the venue to the date, there are countless choices to make and because it's one of the biggest days of your life, you want it to be perfect. The wedding of your dreams!
Well, the first decision many brides make is the date, because the season, and therefore the weather, will determine many of the other elements. While all seasons come with their pros and cons, if the last on your list is a winter wedding, you may need to reconsider!
If you want to learn the good, and the bad, that comes along with having a frosty wedding, keep reading!
Pro: Winter is Considered "Off-Season"
The most popular time to get married is between the months of May and October, with the winter months being least "desirable" by far. But don't let that discourage you! Because the winter months are considered the "off-season" for most wedding vendors, including venues, many offer a discounted rate for their services, meaning you can save a ton on your wedding by having it during this time of year!
Pro: Winter Wonderland Weddings are Dreamy
Is there anything more beautiful than freshly fallen snow?
With a winter wedding, you can capture that vibe for your wedding day with the decorations, the invitations, even the dress! And your wedding pictures will be to die for. Imagine a beautiful white cape flowing behind you as you walk down the aisle, an adorable hot chocolate bar at the reception, and a roaring fire for your guests to enjoy.
Pro: A Unique Wedding Date
If you're all about individuality, a winter wedding might be the best choice for you. Picture your gorgeous winter wedding, one of these stunning 1920s art deco engagement rings on your finger, and all of your friends and family were able to make it because they didn't have to choose between your wedding and the six others that they were also invited to that month.
Con: Weather Isn't Always Your Friend
Sadly, we have no control over the weather. Mother nature is going to send whatever she is going to send and there isn't a whole lot we can do about it. Now, the weather is a big variable in any season.
For example, September, the most popular month for weddings, is right in the middle of the hurricane season. But with the snowy months, you have to keep in mind that a blizzard is possible, and could prevent guests or vendors from getting to your venue.
Con: An Outdoor Wedding May Not Be an Option
If you're an outdoor lover and have always dreamt of getting married under the sun, a winter wedding may not be for you. While it is possible to have an outdoor wedding in winter, you run the risk of freezing cold guests. And the last thing you want is your family and friends shivering through the ceremony instead of enjoying it!
That being said, you could always compromise with a covered, but still partially outdoor, wedding. All you need is a tent and a few space heaters!
Con: Less Daylight
Along with the change in weather, the changing seasons also come with varying amounts of daylight. And unfortunately, winter has the least of all. This isn't inherently a problem, nighttime weddings can be lovely, but if you want some pictures with sunlight, you'll need to have your wedding earlier in the day than you would in spring or summer.
As long as you keep in mind that the sun sets around 5 pm, you can still have plenty of sunshine on your big day!
Is a Winter Wedding for You?
Well, there you have it! The good, and the bad, of having a winter wedding. The weather and amount of daylight are the biggest drawbacks to a wedding in the winter months, but many issues that arise can easily be solved with a little ingenuity. 
On the other hand, winter weddings can be absolutely enchanting, giving your special day that touch of magic. You'll be saving money on the vendors, so you'll be able to add a few details that you may not be able to afford in the peak season. And best of all, your invitees will be more likely to have the day free, meaning you'll have more friends and family to celebrate the start of the rest of your life.
Planning your big day? Looking for more wedding advice? Check out our blog!