The wedding ring is one of the most important items in your wedding budget which is why the process of buying it is often overwhelming to most couples.
Keep in mind that many brides dream of getting a 2-carat princess cut diamond ring complete with a luxurious platinum band just like their richer friends got but the reality could be another different story.
You may not be rich enough to pull off a grand wedding as your boss or rich cousin did but that doesn't mean that the girl of your dream shouldn't get a lovely and quality wedding ring.
Here are three key tips on how to cut costs on a wedding ring and still give her something she'll be proud to show off to her friends.
Go for a Bridal Set
I never knew a bridal set could be a money saver until I learned it from my Dan, my close friend, and next-door neighbor. I have known Dan since we moved into our current neighborhood several years ago. Dan is not an accountant but is the practical kind of guy who has an eagle eye over his finances.
He keeps and records every invoice and receipt he gets including restaurant tabs and ATM withdrawal statements. I have never seen a man execute better, more efficient, and stress-free wedding preparations than Dan.
While the rest of humanity has to endure financial stresses when choosing a wedding band, Dan had already taken care of things by purchasing a bridal set before he proposed to his Rose. I learned from Dan the value of a bridal set and how it can save you loads of time and money.
A bridal set is basically a combination of an engagement ring and a wedding ring bought together. One of the key benefits of a bridal set is that the engagement ring matches the wedding band perfectly in terms of style and color.
Both rings can be worn side by side and still look great. Best of all, buying a bridal set is not only simple and convenient but can also save you money when you buy the two rings together.
For instance, Best Brilliance bridal set collection features a wide selection of matching rings that you can buy together at a discount. You will definitely spend less money when you buy the rings compared to buying the two rings separately.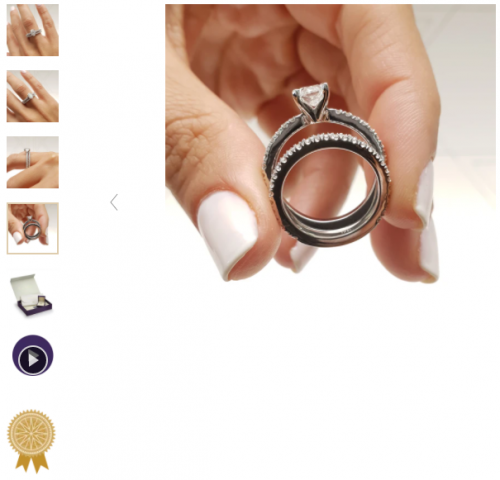 Make a Compromise on Stone Clarity and Carat
Another way of saving money on a wedding ring is by compromising the clarity and carat of the ring's stone.
The value and price of a ring largely depend on the type of diamond it features. A diamond with VS classification may be pricier than one with SI classification. An SI diamond will still look beautiful without any visible imperfection or inclusion.
When it comes to the size of the stone, size does indeed matter but you can always settle on a diamond that is less than a full carat and cheaper.
For instance, rather than buying a ring with a full carat, you can always go for a .98 or .95 carat. After all, no one will ever know the difference between the full and .98 carat diamond.
Look for Wedding Ring Financing Options
A good jeweler such as Best brilliance offers affordable financing options that allow you to purchase the wedding ring and pay for it in small monthly installments.
This option works just the same way as car dealerships do. Best Brilliance financing options include offers from reputable companies such as Split It, Affirm, and ID.ME Discount.

Conclusion
The wedding ring is a significant expense on your budget and should therefore be approached the right way.
You could start by considering the three tips discussed above to cut costs on your wedding ring expenses.