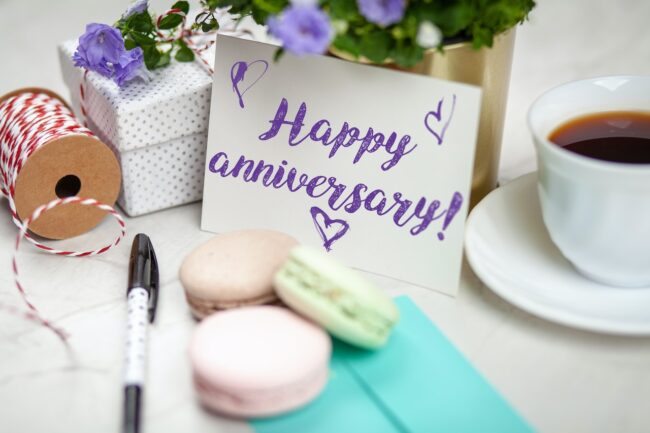 Many newlyweds want to celebrate their anniversary but are worried about busting their budget. Luckily, you don't have to spend a small fortune to have a memorable day or night. By choosing the right low-cost (or even free) activity, you can create a wonderful memory without having to worry about the impact on your account balance. If you want to make sure that your celebration doesn't break the bank, here are five budget friendly anniversary ideas for newlyweds.
1. Dine Out at the Right Time
While a romantic dinner out might sound lovely, that meal tends to cost more than those earlier in the day. If you want to head to a restaurant to celebrate your anniversary, consider going out for breakfast or brunch instead. You can start your day with a lovely meal out and even enjoy a mimosa or champagne, if you'd like, usually without the same kind of price tag as you'd see with a later meal.
The same can be true for lunch at a restaurant. If the location offers a separate lunch menu, you may be able to save. While the portions tend to be smaller, they're still usually satisfying. Plus, the cost is far less than you'd usually spend.
Heading out for happy hour deals can also work. Many restaurants offer appetizer and drink specials during the late afternoon or early evening. By dining out then and focusing on the discount menu, you can have a fun time without the cost of a traditional dinner out.
If you do go this route and are particularly worried about cost, check the restaurant's menu online in advance. That way, you can see exactly what you'd spend before you sit down at a table.
2. Cook a Fancy Meal Together at Home
If you want a fancy meal but don't want the cost of dining out, consider making it at home together. You can find recipes online for nearly any dish, as well as video tutorials showing you the techniques you'll use. Plus, you can modify the meals to suit your personal tastes, ensuring it's precisely what you want.
Consider what you both like to eat when you're out, then see what recipes or how-to videos that you can find. When you find a strong option, price out a shopping list to see if it fits your budget. That way, your celebration can be special and affordable all at once.
3. Have a Romantic Movie Night
Thanks to the plethora of streaming services and paid viewing options, it's pretty easy to set up a movie night featuring your favorite flicks. If you want to turn it into an anniversary celebration, just up the romance a touch. Purchase a bottle of champagne that you can enjoy together. Couple that with some of your favorite elevated treats.
You could even set up a movie night under the stars. While this is a breeze if you have an outdoor projector and screen, you could also do the same by setting up picnic-style in the backyard or hopping on a porch swing, snuggling on a blanket, and watching together on a laptop or tablet.
4. Head to a Low-Cost Show, Concert, or Exhibit
Many venues host free shows, concerts, and exhibits regularly during the year. If you're both fans of a particular style of music or art, check nearby concert halls, museums, clubs, or similar locations to see if they are offering anything you'd enjoy. You could also see if any venues are streaming an event or offering virtual tours for free, particularly if you're concerned about the pandemic.
If you can't track down a free option, check for low-cost events. You may be able to find discounted admission through sites like Groupon or other avenues, including professional or workplace organizations you belong to, your credit card company's member perks area, and more.
5. Have a Game Night Alone or with Friends or Family
Playing board games can be a great way to celebrate your anniversary. Sometimes, a little bit of competition can be fun. Plus, if you invite friends or family members to take part, you can your spouse can team up to take on other couples.
If you invite others over, consider making the event a potluck. That way, you can all enjoy a great meal together while having fun.
Can you think of any other budget-friendly anniversary ideas for newlyweds? Have you tried any of the options above and want to discuss your experience? Share your thoughts in the comments below.
Read More: