I think I'm going to start a new little series on this blog and call it Things My Husband Does.
Before we got married, Eric would always say how he was pretty clean but his mom was the one who was a neat freak and just thought he was messy. But Eric didn't think he was messy, and every time he had dinner at my place, he always cleaned the dishes right after. I was in absolute heaven.
And then we got married. And I realized Eric's mom wasn't a neat freak at all, she was normal. Marrying the youngest of two boys, I soon realized he had also been spoiled. Doesn't know how to properly load the dishes into the dishwasher, thinks the floor is a better place for his clothes than the hamper, and cannot for the life of him place his dirty dishes in the sink–everywhere else is perfectly okay, such as the coffee table, the dinner table or even the counter right next to the sink, but not actually in the sink.
SO–rather than become a nagging housewife a few months into our marriage (although I admit sometimes it's hard not to nag) I came up with a funny cute little solution. So far it's seemed to work, and it's become almost a game.
I present to you "The Post-It."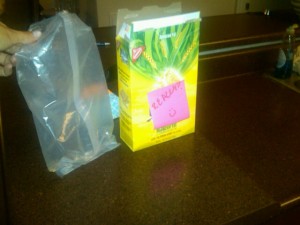 After way too many incidents of "but I forgot to put my dishes in the sink!" I wrote on a post-it "REALLY?" and added a cute little smiley-face to try and keep it light-hearted. I now stick this post-it (we re-use the same one) on the fridge, and anytime there's something that just makes me go "Really?" I stick it on whatever the offending item happens to be at the moment so that he can see it later when he gets home.
Example number one is above. A completely EMPTY bag of Wheat-thins that had been left in the cabinet. Like, REALLY? You can't just throw away the box??? Are you planning on saving it? Why would you leave an empty box in the cabinet?
Perhaps next week, Eric will do an edition of "Things My Wife Does" and then I'll be screwed because I know I do–and say– some REALLY stupid stuff. But we laugh together, we can certainly laugh at each other as well.
p.s. I love you honey!