There's a guy in town who can dominate your life…and his name is FICO.
I'm sure most of you know, but your Fico score is basically a number that companies, creditors, etc use to calculate whether you're a good applicant or a bad risk. Fico scores range from 350 to 850. Anything above 700 is considered excellent credit.
So imagine my utter happiness when I signed up at myfico.com for a free trial and found out my score is 800. Here's the screenshot proof that I am a BAD ASS.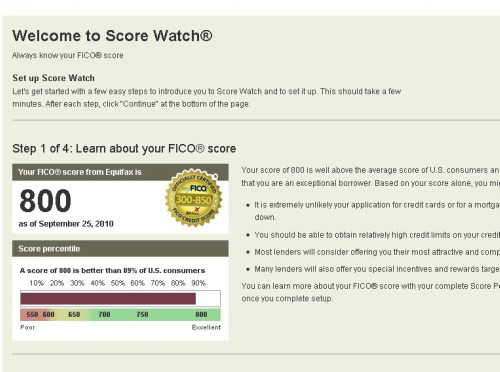 Did you see that? I am well above the average consumer, I have excellent credit, lenders love me and life is a big fat ball of rainbows and butterflies.
But wait–this is you talking, by the way–you have credit card debt, and loans, how can you possibly have such good credit??
There are a number of factors that play into your credit score–with the number one being making all your payments on time.
I've never made a late payment. Not once. Not ever.
I've had a credit card since I was 14, so my credit history is at least 12 years long.
I have a car loan, which my dad (also 800+ credit score) co-signed for me, and which I've paid on time, every month.
After I got married, I called my credit cards and asked them to raise my credit balance and lower my interest rate.
Okay, okay, sorry Erika we're not as anal responsible as you–this is still you talking, by the way–I made some mistakes when I was younger, what can I do to improve my score now?
I also checked Eric's score to see where we stood together. Now that we're married, lenders will look at both our scores if we apply for a loan together.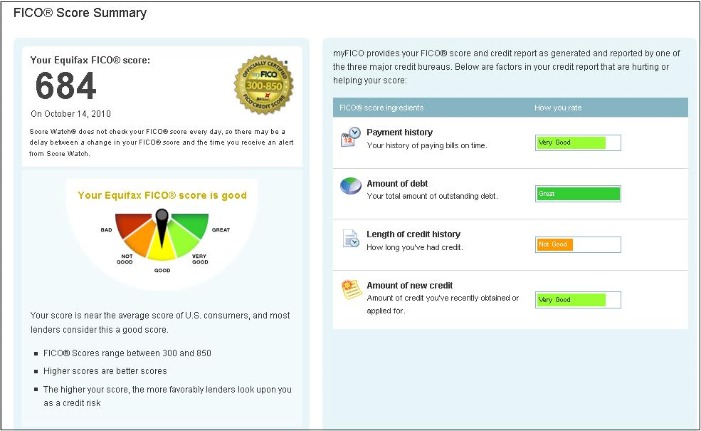 Eric's score of 684 is listed as "good", but not "very good" and it is a little below the national average.  If you can see on the right, his credit history is not very long and that's what's hurting him the most. Since he doesn't have any car loans or student loans (lucky guy), the only thing against him is his credit card debt, which we transferred to a joint credit card when we got married with a special 0% interest rate through April 2011. (another reason to get rid of the debt by then!)
He made two late payments which didn't hurt him significantly, but put him in the "very good" not "great" category. Although, now that I'm handling the budget, you can bet that will never happen again. And his amount of new credit is also "very good," not "great."
We want to up Eric's score, and the best bet right now, would be to increase his credit line, thereby increasing his debt to credit ratio. The higher credit he has, the less debt it appears he has.
For example, before I got married, one of my my credit cards had a $5,000 limit. Just by calling, I was able to up it to $10,000 and reduce my interest rate as well. There for, instead of having $3700 debt to a $5,000 line (74% debt!), it appears we have $3700 to $10,000 (37%). We actually have more credit line than that, but you get the picture.
Also–Eric had some pretty bad credit cards. One of them had an annual fee! Why on earth would anyone sign up for an annual fee credit card these days when you get free ones that offer you rewards? We got rid of that one pronto! Normally, I wouldn't advise on closing credit cards unless they're really bad, like this one was.
The great thing about this free trial on myfico.com (btw, I'm not getting paid to write about this) is that you can also see how your FICO score can improve with changes! If we make all our payments on time for the next 12 months, Eric's score will improve to between 704-734. That means he'll go from the "good" category to "Excellent" category in ONE YEAR!
Other tips:
Don't open too many credit cards at once.
Continue to make payments on time, even the minimum balance!
So there you have it! Our Fico Score! Hopefully, we won't have to use it for a while, but it's always good to do an annual check on your score and credit history to make sure nothing is amiss.
Any tips on improving your score? Any FICO happy stories out there? Anyone willing to share their FICO?