Most recently, I've been trying this new thing where I focus on the positive of the situation rather than the negative and I've found it helps me be happier. For example, even though Eric is now working 24-hour shifts like every other day–no joke–I realize that I am nicer to him when he's home (maybe it's because he's not around as much to screw everything up???). Instead of being all "Why can't you put the dishes away?" I'm all "Honey, you've worked so hard…here, let me do that." (Okay, well maybe I don't say that…but I at least say "honey, can you please put your dish away?")
Uh…so what was the point of this post? Oh yeah…moving. I hate moving. Not only does it take a lot of work and effort, but it hurts your back, you get all sweaty, and I can't imagine anyone ever being in a good mood while they're trying to move. For the record, we left an apartment on the third floor to move into another place that was on the second floor and has two floors–with no elevator access.
I will be forever eternally grateful to our parents–mine and his–for coming to the rescue and throwing a little "moving party" in our honor! (The moving party was more like both of us talking to our moms, and our moms convincing our dads to feel sympathy toward their broke children, and the dads finally agreeing to keep their wives–our moms–happy by helping us move) And we would have NEVER been able to move everything out if our parents hadn't come help.
And then once our parents left, and it was just Eric and me, we surveyed our little home and realized "Crap, this place is really small!" Where are we going to put everything???
And me–being the uber control freak, responsible person that I am–started to wonder a little bit…where is the positive in this??? where is the positive in this???
In less than a year, I moved out of my parents' house into a three-bedroom Newport Beach townhome I shared with two roommates. Five months later, I got married and moved in with my husband into a smaller one-bedroom apartment. And six months after that, we left that one-bedroom apartment to move into a cheaper more affordable one-bedroom loft.
And I hate moving.
But I guess you could say the positive was that we won't feel as restricted with our budget because of the money we'll be saving. But that still didn't seem like enough of a positive for me. Because this place is really small, and there's no storage, and I am learning to be creative in where I put things.
And then the lightbulb clicked. You could see the glow above my head.
I get to re-decorate. I get to turn our old things into new things. I get to assemble our little home, put it together on the tightest budget imaginable, and I get to look back at our little home and say "This is our home."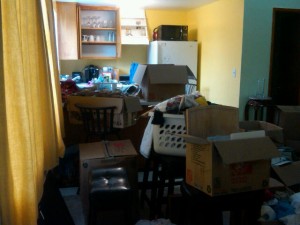 And despite that it looked like this two days ago…It's all coming together now…and when you see the After pictures, you're all gonna be like "whoaaaa…" and I'm gonna be like "I told you" and I'll get to gloat because I love being right and I love proving people wrong….
I found the positive…hehe.