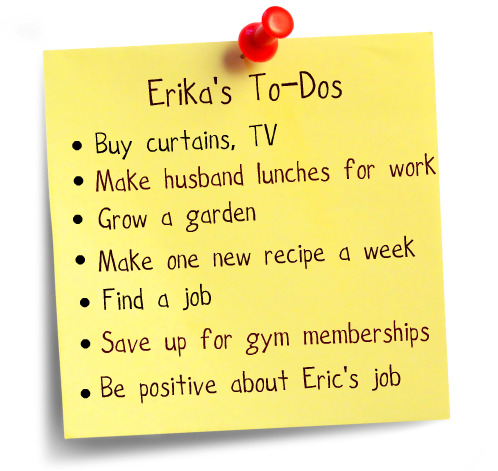 1) There are 2…okay, more like 26838503 things that need to be done to our new home, but the MOST important are new curtains–not the hideous green things that currently cover the windows–and a new TV. I thought I'd be able to last at least until Black Friday without a TV, but I have found out that I cannot. Especially on the nights when Eric's working. It's absolute torture.
2) I used to make Eric lunches for work and since we've moved, I've stopped. I need to get back into the habit. You may be thinking "Awww Erika, you are such a sweet wife doing that for your hardworking husband." Let me set the record straight–that's not why I do it. I pack his lunches because if I don't, then he doesn't either, and he ends up buying food, costing me precious money and ruining my budget. So yes, I do it because I love him, but mostly I do it because I need him to stop spending so much money eating lunch every time he works!
3) I want to grow a garden. This may be one of those "I'm going to bake my own bread!" phases…but we shall see. I know nothing of growing a garden. I can't even keep my orchid alive.
4) I need to cook more. On the nights when Eric is working, it would be good for me to cook a recipe and then put some of it in the freezer to eat on the days we don't feel like cooking. (or for Eric to take to work!)
5) Find a job. I need a new one. Can't someone just pay me to blog? I'm pretty good at that…hey, it's how I found my husband! (or how my husband found me!)
6) Now that we're no longer in our expensive apartment community, we have lost our gym. We can't afford $60 a month for the two of us (or even $30 a month for one of us!) so we're trying to save up to purchase the $300, 2-year gym membership (comes out to $12.50 a month!). Although Eric gets priority since he needs to be fit for work. Nobody cares if I'm fat except Eric.
7) In case you haven't noticed, I'm not a big fan of Eric's work hours. And I constantly complain about it. I am trying to learn to stop and be positive. It's not Eric's fault his job hours suck. And this is only temporary and it will be good for his career. And the nights he is working, I get to do my girly things, like eat ice cream for dinner while watching Grey's Anatomy and Oprah on TIVO and reading People magazine and Us Weekly.