I don't think I've mentioned it, but I am Mexican. As in, all my grandparents are Mexican, my dad was born in Mexico, and my mom was born here but raised in Mexico. And then that's where the real Mexican bloodline ended, because by the time it got to me it pretty much evaporated. Prime example number one? I suck at cooking. (and everyone knows, Mexican wives are known for their cooking…and cleaning…it's not a stereotype if it's true!)
I can't cook. Eric is the cook in our family. He can take all the ingredients in our fridge and whip up something off the top of his head. Me??? I need a recipe, and then I need some help, and measuring cups and bowls, and even then I might screw it up because it will be possible I forget to add a key ingredient…
This is why I am not allowed to use the "good" cutting board or the "good" knives. I am banned from my own kitchen. My grandma would be mortified.
So Eric had to work late again, and I decided to cross off my one-recipe-a-week from my To-Do list. Since I had all the ingredients, I decided to make a healthy version of Green Chile Enchiladas which I found here.
For all of you out there who are wannabe-cooks like me, let me give you some tips…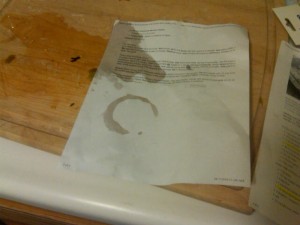 1) Keep your recipe OFF the cutting board, in a safe and dry place.
2) When you print the recipe, make sure the whole recipe is on the page! Nothing is worse than reading the instructions and realizing that the paragraphs are cut off, so when it says "Mix in (cut off) then let simmer for 25 minutes" you are left to guess which ingredients you are supposed to mix in…that's just a bit of advice that may be helpful…
Soooo, I started cooking my enchiladas, making the filling and the sauce simultaneously. The recipe called for white beans, but I only had black beans. Improvise! I wasn't going to buy white beans…just use what you got!
I then put the sauce on the bottom of the pan like so. I proceeded to make my first enchilada, and the tortilla broke!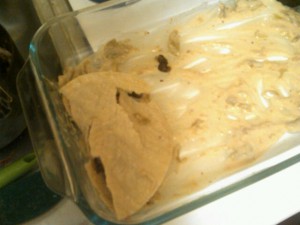 Darn. Okay, no big deal, I'm just going to be more careful.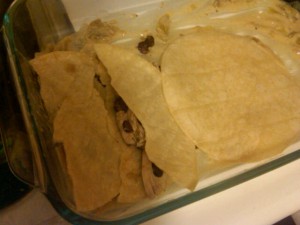 But then, the second tortilla broke again!!
So, I had two options. The first was to warm up the tortillas. I realized my tortillas were breaking because they had been in the fridge and were cold, they get soft when they're heated. My mom actually soaks them in olive oil so they're super yummy.
But there were two problems with this option, the first being that I couldn't use oil, because then they wouldn't be "healthy" and the second problem being…I'm lazy and I didn't want to take extra time to warm up the tortillas.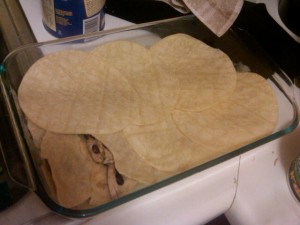 So I got creative.
I laid out all the tortillas across the pan…put the filling on top of the tortillas…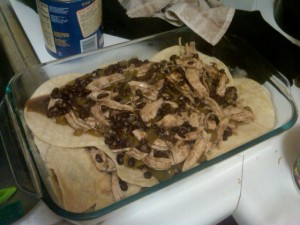 Put more tortillas on top, put the rest of the sauce on top, and added the cheese, and WAH-lah!!!
Two -minute enchiladas! (Only one-minute if you don't have to shred your own cheese!)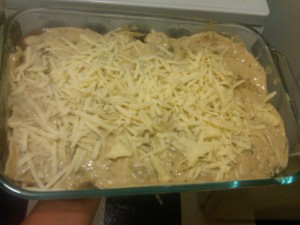 Well I guess it's more like a casserole…but who cares right? Once you're digging in, you can't even remember whether it's an enchilada or not…the point is…they taste like enchiladas okay???
So I stuck those babies in the oven for 20-30 minutes…but being the multi-tasker that I am, I gave our dog a bath during this time.
Am I not like the perfect housewife??? *Patting myself on the back right now*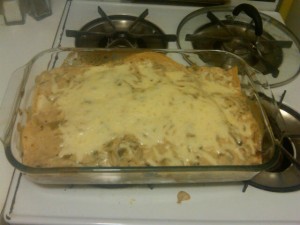 And exactly 30 minutes later, enchiladas were ready, healthy and SO GOOD.
I packed two tupperwares for the Mr. to take to work next week! I made a recipe and I packed my husband's lunch–Killing two birds with one stone!
And the next morning, to reward me for my night of slaving away in the kitchen, Eric made me breakfast.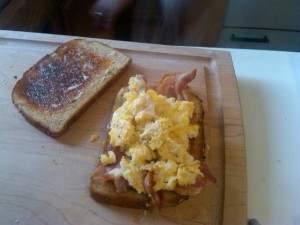 Life is good, People…life..is…good.