This is part III of Decorating on a Budget Week! If you'd like, you can also read Part I and Part II.
Today's post is not only about how to be frugal in decorating your kitchen but also how to maximize the tiny space of your incredibly small kitchen!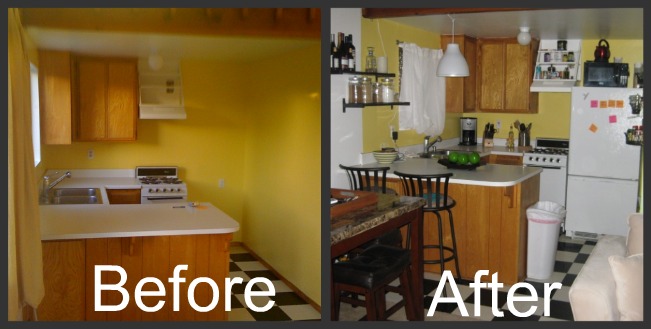 Our kitchen is very small and there is no storage space. See that small itty bitty brown cabinet in the back? that's pretty much it and then some storage space underneath the kitchen counter. There really is hardly no where to put away anything except for dishes! So we had to get creative in creating storage space.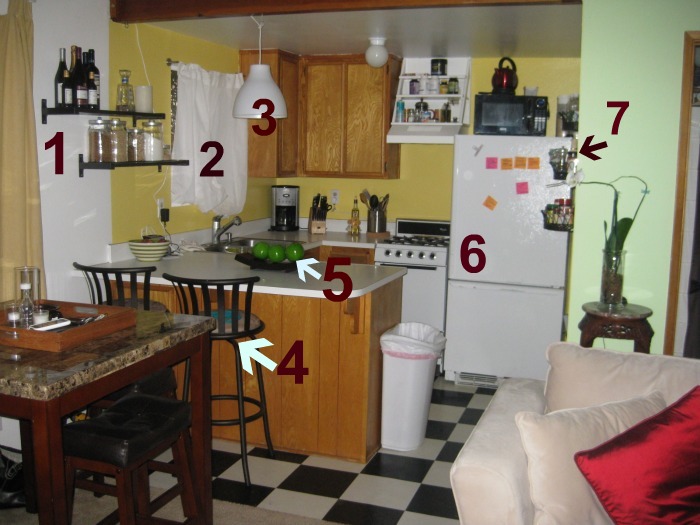 1. As you can see, we added shelves! I had these Ikea shelves from my single girl days (see below) and we held on to them because I figured they would come in handy. Well, they did! With some black spray paint, we turned them into kitchen shelves. Then I got $26 worth of containers from Ikea, and used those to store pasta, rice, sugar…pretty much all pantry staples!
This is how the shelves were used before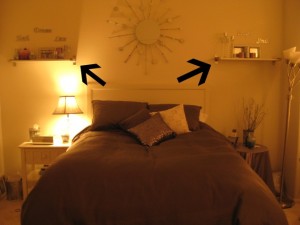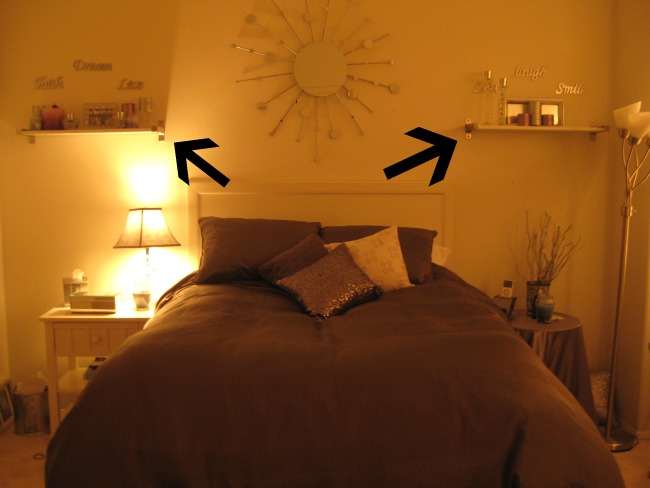 2. We covered the window with some wire ($14.99)  and white curtains from Ikea ($12.99)
3. Added a $12.99 Pendant lamp from Ikea for some extra light
4. We bought the two barstools from Target for $50, but used a gift card we had received, so FREE to us
5. My mom gave us the lovely centerpiece of green apples
6. We totally scored an awesome deal of $50 for this top-door fridge from my mom's co-worker
7. Our FREE make-shift spice rack was given to us by my mother-in-law (you can see it better in the picture below). We spray painted it black and this added lots of extra storage in our one little cupboard!


Grand total for our kitchen out of our pockets?
$103.98!
I'd also like to add that the knife set, coffee pot, green striped bowl, steel utensil holder, microwave and tea kettle were mostly wedding presents, and a couple hand-me-downs.
I think the kitchen was definitely a "Decorating on a Budget" success.