Losing weight is HARD.
I think I was starting to reach a point where I was just hoping someone would spill the weight-loss secret. Everyone has all these great tips, but really I wanted someone to show me the diet where I can eat whatever I want, not exercise and still lose weight. Sadly, such diet does not exist. Trust me, I would have found it by now.
But I've noticed more and more that losing weight is exactly like budgeting.
There is no reward for good behavior. You can't reward yourself for sticking to your budget by going on a $1,000 shopping spree. Just like you can't reward yourself for losing weight by pigging out on brownies at 9 pm on a Saturday night.
Your only reward is knowing how much money you saved, or how much weight you lost.
The moral of this story? Last week, I had lost 5 pounds for the month. 5 pounds!!! I was so excited to tell you guys about it because I knew everyone would be so proud. Look at that, you would all say, she stuck with her plan and now she's reaping the benefits…
Well, because I had eaten so well I decided to "slide" a little bit this past week. This meant baking brownies and eating (more than) half the batch. This meant eating every cookie that crossed my path and never saying "no." This meant constantly saying "I deserve it! I lost 5 pounds!"
(FACT: While writing this post, I attended a retirement party and had a huge corner slice of chocolate cake…I may have also had Quizno's and a cookie for lunch…)
So yesterday, I stepped back on the scale and realized I had gained two pounds back. In one week. Doh!
Total Weight Loss this month: 3 pounds.
Total Weight Loss since starting weight loss journey in January: 8 pounds.
(You can read month 1, month 2, and month 3–if you're keeping track).
I should be upset that I suck so much at losing weight. But just like budgeting, this doesn't mean you just forget about it and go console yourself by stuffing your face in a bucket of ice cream. This means, you keep going at it. Because again—it's a marathon, not a sprint. Do I sound like a broken record here?
Our anniversary is this weekend, and I'm exactly 10 pounds heavier than I was at this point last year. But I feel good. I think my boot camp class really helped kick my butt into shape and give me some muscle! And I've still lost 8 pounds! That's good, right?? <– shamelessly seeking compliments here
But sadly, boot camp is over tomorrow. And I don't really plan on jumping back onto the weight loss wagon until Monday–because I plan on going into vacation mode this weekend. I've become a firm believer of E's mantra: Losing weight is 95% food and 5% working out. Unfortunately, my problem is food. I've got working out down.
As for my other weight-loss goals this month?
Fit into my jeans comfortably
Check! I was able to fit into not one, but TWO pairs of jeans. I haven't worn a pair of jeans that weren't jeggings since before Christmas. The last time I tried to wear a pair of jeans in February, it hurt to sit down because it would dig into my fat. But I'm wearing them now and it feels great! (Except then I had to wash them, and now I'm back to stretching them out again…just being honest!)
Work out at least 20 days this month
Check this out!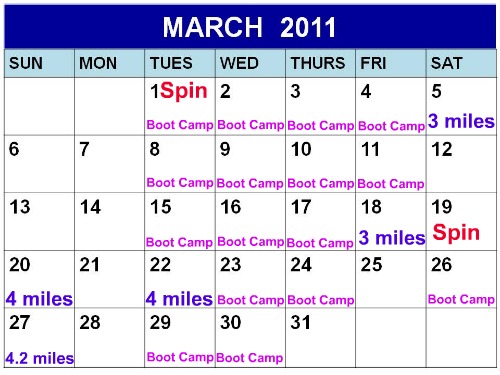 That's right! I worked out 22 days this month! or at least 2/3rds out of the month. EEEEEE!
These are my weight-loss goals for April…
1) Get to the 10-pound weight loss goal! That's only 2 pounds away, I hope to kick this out of the ballpark!
2) Work out at least 20 days this month.
3) Stick to my "no-carbs for dinner" rule at least 15 times this month.  (I really believe this is my weight loss secret.)
What are some of your weight-loss secrets? How is your weight loss journey going? Have any of you given up yet? Stick with it–we can do it!!