SO I was going to do like a 6-month review on our budget, and then I realized it's July, but 7-month review just doesn't have the same ring to it, so I'm going to call it a 6-month review even though it's really 7 months–is that okay with you guys?
Anyway, this year, I started tracking every dollar we spent. I track every penny in my red notebook that I bought for like $1 at Staples. At the end of every month, I add up everything into its own category, ie, groceries, gas, beauty, clothes, dining out, etc. It doesn't actually take THAT long, because I pretty much separate the categories as I write them down initially and then I just have to add them all up at the end of the month.  I then input all the info into a spreadsheet on Excel –it looks like this: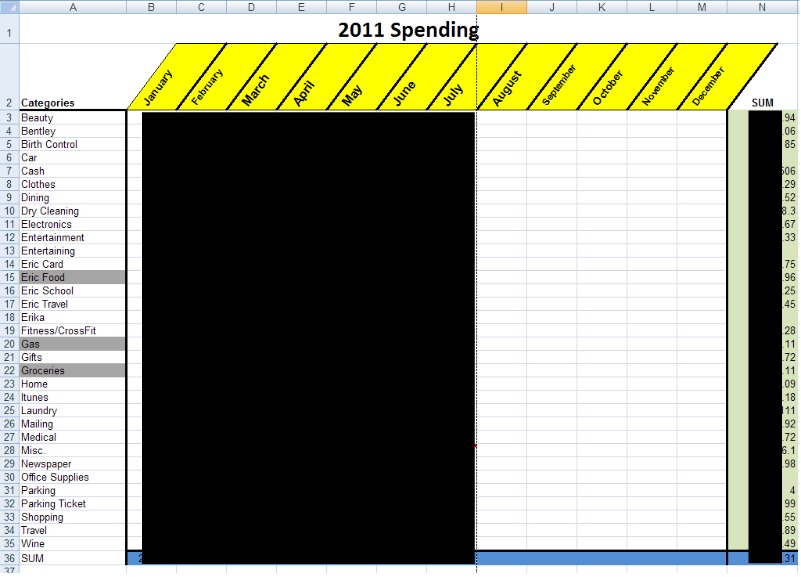 (I blocked numbers out to protect the guilty.)
SO anyway, you get the idea right? What you can't see is the bottom of the spreadsheet where I have our fixed expenses (rent, car payment, insurance, student loans) and then I also have our monthly income and how much is put into savings every month.
So simply by looking at this sheet, I can see that we have spent $99 on parking tickets this year (*cough* Eric *cough)..some other notables:
more than $2500 on groceries and home supplies (doesn't that seem high?)
$723 on clothes between the two of us
$1224 for Eric's food allowance for work (and he still complains)
$1300 on dining out
only $600 on entertainment!
$661 on beauty (mostly me, but some Eric)
$423 on our furry child (and worth every penny!)
Over $2000 for all of Eric's fire tests, interviews, supplies, etc (including airfare, hotel, food, gas, etc)
So there you have it– an At-A-Glance version of our budget. Looking at these ginormous numbers you start to realize just where all your money goes. For example, I don't think we dine out that often. And for the most part we are usually under $150–that's a good dining out amount, right? However, in July, we had two expensive dinners, each were above $50 and that cost us, bringing our dining total to $240.91.
We've also managed to sock away an average of 17% of our total monthly income (after taxes).
Why is this so important, you ask? Well, I've never kept track of my overall spending before. Monthly, yes. But a whole year?? Isn't it interesting to know where the majority of your income goes? If it hadn't been for the spreadsheet, I would have never guessed that we've spent more than $2500 on groceries and home supplies. It makes me want to take a real close look at what we're buying and seeing how to reduce it. My grocery budget this month was $300, but we spent $346, down by $40 from last month but still no cigar.
Plus, now that we have about an 80% idea of what's going to be happening with Eric and the new job vs. the fire academy (it's the best possible scenario actually, see below), our budget is going to change drastically. And if there's one thing you should know about me by now, is how much I HATE change. I feel like I'm finally starting to get the hang of this budget, and now you're going to reduce our income by a huge chunk?
Laugh away, laugh away.
This will also put a damper on our paying down the debt plan, but if we can go five months on one income and not go into debt, I would consider that a success, wouldn't you?
This is what we've been saving for. It's do or die. We're gonna be ok, we're gonna be ok, we're gonna be ok.
August is going to be our practice month. As in "Let's practice how we're going to live as a single-income family." Eric will still be receiving at least 2 more paychecks, but I would rather pretend they don't exist and just live as if we were already on one income. I know this is going to be so tough because we're going on an overnight trip this weekend (trips come out of savings though, and not the monthly budget), a friend's 30th birthday dinner ($100), Bentley needs to get groomed in August ($50), and we plan on going to the Fair next weekend ($80) and to Palm Springs with my parents in late August ($200).
But here's the one rule I want to stick with in August–NO CREDIT CARDS! Between my Visa, Eric's Amex, and my Amex, that is just TOO many credit cards to keep up with. I always say "oh I'll just pay it right away" but usually we don't have enough money in our account to cover the expense–like $100 to fill up both our cars!
So my goals for August:
NO CREDIT CARDS
Grocery budget under $325
Keep our overnight trip to $100 for spending– CASH ONLY
A review on July's goals:
Reduce our grocery spending to $350.

WIN! I guess we made it to our goal, which was $350, we spent $346.

Figure out what's going on with Eric's job/academy.

WIN! We just found out Monday that Eric's potential new job won't start till January! Meaning, he can complete the fire academy, which ends in early December! This was the BEST scenario that could have happened. It's still not 100% sure, but almost…

Pay off our vacation by not contributing to savings this month.

WIN! Well, I paid off all the money from our vacation, but we still managed to rack up almost $800 between Eric's fire stuff, car registration, and some other things. It's not due till September so it will be paid off by then (as long as we don't add anymore to it!)

Make extra $ this month by selling stuff online. FAIL. I have a few things to sell, like our dining table. My MIL said she's going to have a garage sale this month, so that should help bring some extra income to pay off those credit cards.
Save More Money in 2018
Subscribe and join the worldwide 52-week money challenge! Get the tools you need right to your inbox.