Change your idea of romance. Romantic (expensive) dates and flowers are nice, but what really gets to me is coming home to a clean house. Having the dishes washed, the floor vaccummed, the toilet with no skid marks (tmi?). Screw the chocolate, it makes me fat. Wash my car, honey, yeahhhhh….
Label your food. I rarely buy cheese because a) it's expensive and b)it makes me fat. But sometimes I like to keep a little bit of cheese to sprinkle on top of stuff. One week, I bought cheese on Sunday evening. I made exactly one cup of pasta, with 1/2 cup of spaghetti sauce, and I was going to sprinkle some cheese on top…and the cheese was gone. In 2 days, a half pound of cheese was gone. That's my husband.
So this leads you to have to label your food. For example, when you buy four tubs of Feta because they are on sale and you have coupons for Buy One, Get One Free, and you pay $5 for 4 tubs of feta, but you know that if you don't label it, your husband will eat it all. So you have to do this: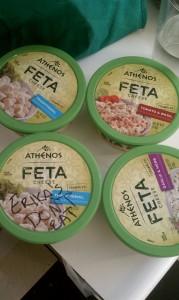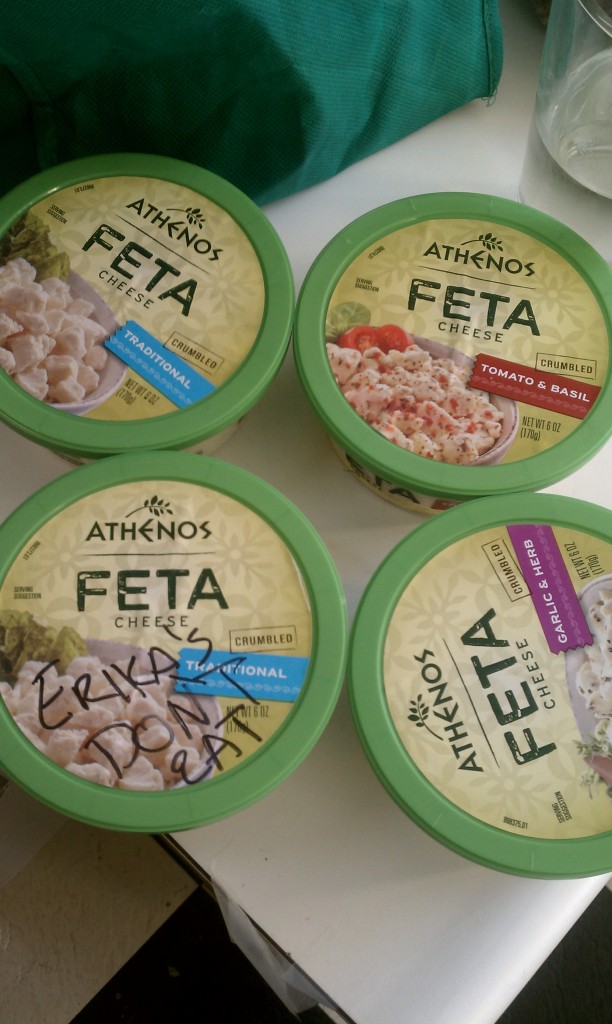 And then text him and threaten that if he touches your Feta, World War III will erupt.
Repeat, Repeat and Repeat Again. There are only two ways to clean something: My Way and Not Your Way. When I do the laundry, I like to separate it between Eric's and my clothes, and what goes upstairs and what goes downstairs. This makes putting away clothes (the chore I hate the MOST) much faster. The few times Eric has done laundry, he doesn't separate it this way so it takes me forever to put things away. But do I complain? Of course! How is he going to know he is doing it WRONG if I don't complain? The trick is in the wording…" Honey, thank you SO much for doing the laundry but you know, it would be so much better if…."And just keep repeating it. Over and over again, every time he does it wrong. Eventually, he will get it right. Like how it only took a year of me telling him OVER and OVER before he finally started doing this.
What have you learned from relationships?