It's been more than a month since Eric quit his job to go to school full-time for the firefighter academy and we've been living off my income.
A year ago, when this situation first become a possibility, I stood firm and said "No way. How the heck are we going to live off of just MY income?" I knew exactly how much money it cost for me to live on my own, and my income accounted for just ME. How was I supposed to support another individual on the same income?
After college, I lived with my parents until I was 25. I started out working 4 part-time jobs just to pay my student loans, my car loans, my cell phone bill, car insurance, and rent for my parents (a whopping $300, cruel parents, I know). With every job I got, I made more and more money, but I knew I needed a certain amount before I could officially move out on my own. And that didn't happen until 2009, and I was 25. Six months later, Eric and I got married.
With my new job last year, I got a small bump in pay in my salary ($1,600 more annually than I was making at my last job, if you really want to know), so to be honest, my salary now is still only what I was comfortable for living on my own–not supporting a husband and a dog furry child.
Money is tight, to put it bluntly. It is not comfortable living this way. We do have reserves in our savings account, but as much as possible, I try not to depend on them. Last month alone, we had to take out almost $3,000 to pay for registration, uniforms, boots, supplies, books, the most expensive doctor's physical known to mankind,  and everything else in between. The less amount we can take from savings the better.
I get paid twice a month, on the 8th and the 23rd. The first paycheck covers all our bills and extras and the second paycheck covers our rent (and that's pretty much it). However, a third of my paycheck is still being distributed to our savings account since that's how I set it up with HR and don't really see a need to change it. So although we only automatically receive 66% of my paycheck every pay cycle, I also grab the other 33% if necessary out of savings. And it's usually necessary.
Between the 23rd of August and Sept 8, we were essentially living off of our credit cards. We had to pay for Eric's trip for his fire chief's interview (gas, hotel, food), Bentley had to go to the vet ($100), we went out with friends more than we should have, and several hundred dollars later, here we were.
I also had Spending Envy.
In August, we spent several thousand dollars on Eric, Eric, Eric. What about Erika, Erika, Erika? How come I don't get to spend any money on ME? I realize that it's really childish of me to be jealous of my husband, whom is attending the fire academy to further his career, but, but, but….
He got books, I wanted a pair of shoes. He got uniforms, so I wanted a dress. He got a doctor's physical, so I wanted a pedicure. He got school supplies, I got a purse.
Does anyone else ever have this problem? I know there are a ton of people out there whom have had to support their spouses through going to school full-time and such. How do you not get jealous? And how do you control your spending when one spouse receives an extremely disproportionate amount of the income?
There must be some secret people are not telling me. Or maybe that "selfless" gene just sort of skipped over me. It's been known around my family that I definitely lack in the compassion department…
I lived by the motto "Work hard, play harder." Now it seems to be "work hard, don't even think about playing." It sucks. I know it's only for four months, but I still need to keep my sanity these four months.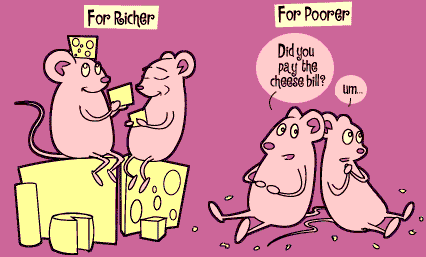 image found here