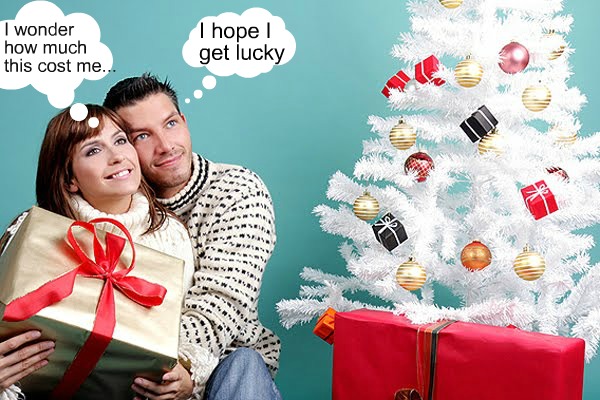 Every time a gift-giving holiday rolls around, I find myself in a financial bind as to what to do about gifts. When you share finances and combined checking accounts, how do you keep presents a surprise? Or do you even bother exchanging gifts in the first place?




For Christmas last year, I gave Eric a limit to spend on a gift for me. At the time, he had one credit card that I did not have access to so we agreed for him to use that card and we would pay it after the holidays. This didn't turn out so well, when Eric continued using the card as part of his fun money account and he soon racked up debt on it. Needless to say, that card is no longer part of our family. However, I'm still not feeling the whole "give him cash to buy a present" deal yet.
I'm not even sure I want a gift this year.
I'd be paying for my own gift
The literal translation of this is that I have been the sole income provider the past four months. And while my husband will be working again by the end of December, I still feel like I'd be paying for my own gift. Because all our money goes into one huge pot. And if you take anything out of the pot, you're still taking away from my funds to pay the bills.
I didn't budget for our own gifts
Another reason is that we've budgeted a certain amount for holiday gifts this year. I didn't include gifts for us on that list. I wasn't really planning on getting Eric a gift until he brought it up last night. I mean, really, haven't I given you enough? I kid, I kid. However, I still don't feel like dropping $100 for a gift on him, then another $100 for a gift on me.
What if I don't like it?
When it's Eric's birthday, I buy him a gift that he usually has requested. But when it's my birthday, I usually make sure to splurge on something for myself (this year, I got us tickets to see Cirque Du Soleil). If he's going to buy me something, I want it to be something I want. Except for Christmas last year, he's never actually given me a gift. There was that one time he bought me an $80 bouquet of flowers for Valentine's Day…which I ended up paying for….
Am I just being a grinch?
Should I suck it up and set a limit? $50? How much do you spend on your significant other's gift? How do you give gifts when you share finances and still have the gift be a surprise?