If you move back home after college, would you consider yourself a failure?
A few weeks ago, I read a post written by Hithatsmybike about how she believes no one over the age of 20 should be living at home or else you're a  failure.
As someone who was living with my parents until age 25, I was a bit taken aback by her stance.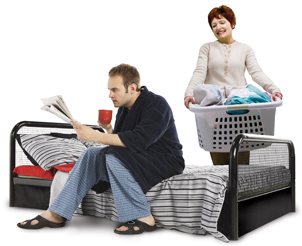 She may believe–no matter how hard I try and argue my circumstances–that I should be ashamed of myself. But at the end of the day–I'm the one that has to live with myself. Not her, not you, not anyone else. So as long as you know what you're doing is the right path for you, then who gives a flying hot dog what anyone else thinks?
But I do know that when you post something where they think they're better than other people over a living situation, it's going to get under some people's skins. So let me instead state why I think it's okay to live with your parents.
Cultural reasons
In a ton of other cultures, women–and even men– don't leave their homes until they're married. This is true for my Mexican family–and if my mom could have nailed me to my bed and gotten away with it, trust me she would have. It's a family thing. My mom still doesn't understand why anyone would want to move out on their own and waste money on rent.
Frugality
There may be a large portion of people who move in with their parents and are lazy and really don't care about moving out–okay I'll give you that. But there are a lot of other people who are working their butts off to make ends meet and are doing the financially responsible thing and saving money so they can stand on their own two feet.
There are also people I know of who are my age and get rent paid by their mom and dad–so yeah if you want to call them lazy, that's fine. I can at least admit it and say I'm just jealous : P
You don't know what goes on behind closed doors
To imply that I'm lazy and unmotivated simply because I was living with my parents goes beyond everything I've ever been. I was working four jobs, seven days a week, waking up at 5 a.m. some mornings to work as a front-desk clerk at a gym, then going to my regular job from 10 a.m. to 5 p.m. then babysitting on Saturday nights and helping my neighbor out at his store on Sundays from 7 a.m. to 4 p.m. and you want to call me lazy?
I graduated in 2006 and lived with my parents til 2009. I waited until I had enough income to move out on my own and be able to not live off ramen. In my opinion, that's more responsible than moving out just for sake of saying I live on my own.
Judge yourself
At the end of the day, the only person you need to care about is yourself. If you're doing what's right for you and your situation–no matter what society says or what ill-minded bloggers may write–then it's all good. The only person you need to worry about is yourself. The rest is just fluff.
What's your opinion?