There are a lot of "secrets" to marriage that people who have been in long-lasting marriages will tell you. But I'm here to tell you: they're lying. In my one and a half year of marriage experience (yes, I am totally an expert), these are the biggest myths I've encountered:
Never go to bed angry
This is the biggest myth EVER. I don't know how Eric and I would ever survive if we didn't go to bed angry sometimes. I still remember being at a luau when I was about 15, and this couple who had been married 50 years (!) said the number one rule is to never go to bed angry. So I held onto that, and when Eric and I were first married…well, we didn't really fight at all. But after the honeymoon period was over (maybe after three months?), when we first had a major argument, I remember holding on to the belief that we couldn't go to bed angry! No! Not us! We were going to work through this, talk it out until our eyes bled out. Because I knew that if we went to bed angry and didn't follow the "number one rule" our marriage would be in trouble.
So Eric and I would talk and talk yell and yell and get nowhere. And I knew that it would get to the point that if we kept going, we would end up looking like that scene in Mr. and Mrs. Smith where they blow up their house.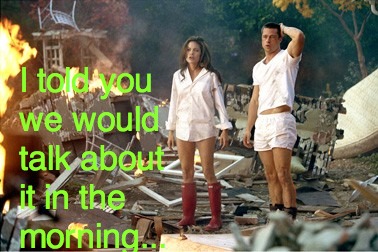 Finally, I would just give up and go to bed. And you know what? In the morning, I usually forgot what we were fighting about anyway. Or at least I wasn't as angry. And I can talk about it more rationally, see his side, and explain in a calm manner as to why he should see it my way.
It's not yours or mine, it's ours
I don't understand why married people have to share everything. Sometimes, don't you just want your own space? You all know Eric and I have our own coffee mugs. We have a silent understanding that he doesn't use my mugs, and I don't use his mugs. It helps keep the peace.
However, the other day, Eric decided that because he had used all of his travel mugs and hadn't bothered to take them out of his car and wash them, that it would be okay to just take my travel mug–even though I have told him many times not to take my travel mug. So when I went to grab my travel mug for coffee that morning, and noticed my mug was gone, I was furious. Seriously. Why can't he just be more responsible and wash one of his five travel mugs so that he has a clean one instead of stealing mine?!
When I texted him about it, he thought it was funny. I was not amused. So I had to get super furious and tell him that he was now going to be packing his own lunch, washing his own dishes, making his own dinner and doing his own laundry because I quit. Hey, I had to teach him a lesson. And he learned it quick.
He hasn't taken my travel mug since.
Love is all you need
I hope everyone knows by now that this is the myth of all myths. Love is very important to have, but it doesn't put food on the table. Love doesn't wash the dishes, or do the laundry. And that ill-advised one-liner from Love Story that goes, "Love means never having to say you're sorry" is probably responsible for a lot of problems as well.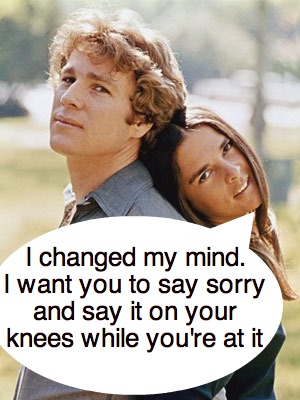 Love means saying you're sorry, and actually meaning it, and promising never to do it again. Love is a very important part of relationships. But so is respect and appreciation. And last time I checked, saying please and thank you have never gone out of style.
What are some other marriage myths?