Who manages the finances in your relationship? It's rare that it's a 50-50 split, and it tends to be easier to just let one person manage the finances. But what about the other partner? How are they involved in the finances?
It's one of my goals this year to get my husband more involved in our finances.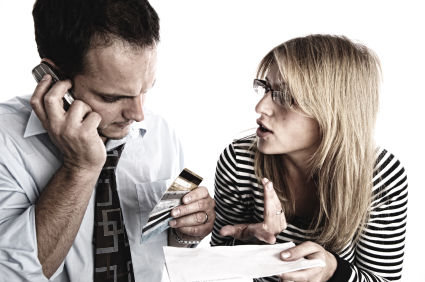 Eric has very little to do with our finances. I am the financially savvy one (he readily admits this) and I actually enjoy budgeting. Crunching numbers, re-working our goals, talking about Roth IRAs and 401Ks gets me all crazy sorts of excited. My husband, on the other hand, just wants to know when he can buy energy drinks again at the local 7-11.
These are some of the ways I've tried to keep a conversation flowing regarding our finances.
Weekly Emails
Every week or so, I would send Eric an email with the status of our accounts. How much we had on the credit cards, what was in our bank account, how much we had to last us until our next paycheck. He would skim through the email and that was it. We didn't talk goals. I knew our goals. My husband knew I was taking care of those goals.
Actual Conversations
I heard or read somewhere that you're supposed to set a specific date and time each week to get together with your spouse and talk about finances. Some people do it over a nice lunch, but since we're too broke to be able to afford to go out to eat just so we can talk about how broke we are, we I decided we would talk every Thursday evening after dinner.
That lasted one week.
No Conversations at all
And then you have where we are now. No emails, no discussions, just an argument every now and then about how he's spending too much.
I know this isn't the best way to handle finances in a marriage. I really have tried to make an effort to discuss our finances, but I find that he's just disinterested in it. He doesn't get the high that I do when it comes to crunching numbers, even though he's the math guy. And then, I also find it hard to carry ona  conversation about our finances. I simply say "so this is what we paid off this week" and he goes "cool."
I need suggestions. I need concrete specific tips. I want my husband to be more engaged, and I don't want all the burden of financial planning to fall on me.
So how do you talk about finances in a relationship?
This post, written by me, was originally published on ImpulseSave.