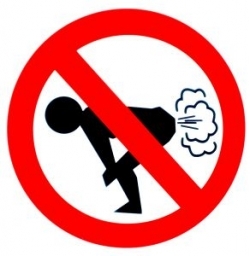 I firmly believe my husband could win the "Smelliest Fart" award. It is that bad.
Last week, we were driving home after a late party. I was driving and Eric was in the passenger seat. Out of nowhere, I see Eric roll down the window. It was freezing so I thought "why the heck was he putting the window down?". Then I get a whiff of something bad, really bad.
"Did you fart?" I asked him, already knowing the answer.
"Yeah, that's why I rolled down the window," he replied.
At that moment–and it was a split-second–I had two options: I could get mad because he farted one of his horrendous stinkers, or I could be grateful because he rolled down the window for my benefit.
And it occurred to me–isn't that how every little argument is? Isn't there that split second where you think: I'm either going to get mad or I'm going to let it go.
The first three months of our marriage, I let everything go. I was beyond in love, and nothing could make me angry, not even his dirty crusty oatmeal dishes.
After three months though, I started getting mad about everything…dirty socks on the floor, dirty laundry outside of the hamper, chores that took forever to be done. I felt if I didn't put an end to it now, it would continue forever. So we argued. I won battles, I lost battles–but we waged our wars.
Almost two years of marriage later, we've gotten to the point where the wars don't have to be fought as often. I can't remember the last time Eric and I had a full blown screaming match. Maybe he cleans up more and maybe I let a few things go.
There are some things my husband will never do:
He will never throw away an empty shampoo bottle.
He will always put an empty jar back into the fridge instead of throwing it away.
He will always ask me where something is before he bothers to look for it.
But there are some things that he has learned:
He now washes his dishes before I get home from work.
He now checks for the best deal at the grocery store.
If he farts in the car, he now rolls down the window instead of letting me suffer.
So maybe that's what arguments come down to–focusing more on the good things, and less on the bad things…picking your battles. Being grateful for the things that matter, and letting go the ones that don't.
So are you going to make a big stink over a smelly fart? Or are you going to be grateful he rolled down the window?
I was grateful. And I smiled the rest of the way home.