On almost every list of New Year's Resolutions is a goal to lose weight. Let's actually make it happen this year. And how about making some money while you're at it?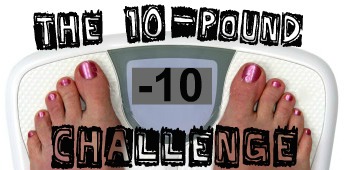 Lose 10 pounds in 12 weeks. Win $$$.
Grand Prize: $75 Paypal Cash
First Prize: $50 PayPal cash
Second Prize: Ipod Shuffle
(2) Third Prizes: $25 Amazon or Paypal
Fourth Prize: $20 Amazon or Paypal
Fifth Prize: $15 Paypal
Biggest Loser Prize: $5 Amazon Gift Card

Grand Prize, hosted by Newlyweds on a Budget
First Prize, generously sponsored by The Money Principle
Second Prize, generously donated by Prairie Eco-Thrifter
(2) Third Prizes, generously sponsored by Budgeting in the Fun Stuff and Pinch That Penny
Fourth Prize, generously contributed by Bucksome Boomer
Fifth Prize, generously donated by Debt Eye
Biggest Loser Prize generously donated by Tight Fisted Miser
The Biggest Loser Prize will be awarded to whoever loses the most weight!
That's a total of 8 Prizes–that's eight chances of #WINNING!!
The Rules:
1. Lose 10 Pounds in 12 Weeks. That's less than a pound a week.
2. UPDATE: Sign-ups close Jan. 15th. Please sign up here.
3. Contest officially begins Jan. 16 and goes through April 9. *if you sign up today, that means you get one whole extra week to work on losing weight!*
4. Participants must declare their participation in the challenge by either posting the snippet below on their blog:
I joined the 10-pound Challenge, hosted by Newlyweds on a Budget. Lose 10 pounds in 12 weeks, win $$$. Are you in?
(HTML CODE) I joined the <a href="www.newlywedsonabudget.com/2012/01/the-10-pound-challenge-are-you-in/" target="_blank">10-pound Challenge</a> hosted by <a href="https://www.newlywedsonabudget.com/" target="_blank">Newlyweds on a Budget</a>. Lose 10 pounds in 12 weeks, win $$$. <strong>Are you in? </strong>
*If you don't have a blog, but would still like to participate, please email me!*
5. If you lose 10 pounds or more, you'll be entered into a drawing at the end of the contest, along with everyone who lost 10 pounds.
Worst case scenario: You don't lose 10 pounds, you're not entered into the contest, but you still lose some weight.
The Fine Print
1. Participants must sign up for the challenge AND declare their commitment to the challenge on their blog (with the button or html code above) to be officially entered into the contest.
2. On Jan. 16, I will email all participants for their starting weight. I will not share this information. It is for verification purposes only. And I will not judge.
3. We will have updates after Week 4 (Feb. 13), Week 8 (March 12) and the finale (April 9). I will email all participants beforehand to check on their progress (you simply have to state if you're down 2 pounds, down 4 pounds, etc, not your actual weight). If you write any updates on your own blog, please include the link on the sign-up sheet, and I will include it in my round-up. You are not required to give an update, only if you'd like to share. Plus, it helps keep you accountable!
4. Feel free to take before and after photos if you're so inclined–we can post them in our Results Post at the end!
5. Encourage your fellow participants. We're all in this together! Feel free to visit their blogs. If they write updates on the challenge, I will include the links so you can visit and read up on their progress.
FAQ
Q: Why 10 pounds?
A: For the past year, I have been trying to lose the 18 pounds I gained during the first 8 months of being married. I've had minimal success because my problem is I love food. As my blog friend, Elizabeth, likes to say: A goal without a date is just a dream. So we're setting a date: April 16 and we're going to be 10 pounds lighter!
Q: Some people lose weight easier than others. This doesn't seem very fair.
A: I understand that it may be easier for some participants to lose weight faster than others depending on how much weight they need to lose. Please do not look at this challenge as if you're competing against others–you are competing against yourself. I am my own worst enemy when it comes to losing weight.
Q: Can I challenge myself to lose more than 10 pounds? less than 10 pounds?
A: By all means! If you would like to increase your own challenge to 20 pounds in 12 weeks (or any other variation), please do so! Just let me know when you sign up and I will make a note of it. If you want to lose say 5 pounds, that's fine too, but your challenge end date would be a lot sooner. Email me when you sign up and we'll figure something out.
Q: How will you determine the winner?
A: All participants who meet their goal will be entered to win the prizes. The winners will be chosen by random.org.
Bloggers who have already signed up:
Cents to Save
Smart Family Finance
Adventures of a (Recovering) Financial Misfit
Can't Find Cash
Pinch That Penny
The Money Principle
Financially Consumed
Fat Guy, Skinny Wallet
Budgeting in the Fun Stuff
Tight Fisted Miser
Bucksome Boomer
The Single Saver
Forever Yours S. Wolfe
Starting out Sawyer
Little Lamb Wants To Be Debt Free!
Happy in my Hippie Bus
Life Doesn't Begin at Retirement
Want to add your name to the list? What are you waiting for?!
*image via *