Moving into a bigger place is going to put a big dent into our budget.
As a somewhat personal finance blogger, I feel like I need to justify this expense and our decision to move. And while I know that people may have several different opinions, we know this is what's best for us.
We still plan on paying off our debt, and by April 1st, we will have paid off all our consumer debt. We will still have my student loans left, but this means that in the past two years of our marriage, we will have paid off more than $7,500 in credit card debt and my entire car loan (which was probably $7,000 or more when we first got married). And you know what? I'm kind of proud of ourselves.
Yes, there will still be about $20,000 left in student loans but look how much we've been able to pay off already? In our book, slow and steady wins the race.
So how much is this move going to cost us? Our rent alone, without utilities, will now be about 38% of our total budget. Our rent now, including utilities, is currently 26% of our budget. So um yeah…that's a big jump.
Lucky for us, we don't really have any other bills except for our cell phones and my student loan payment.
The fact is, rent is expensive in southern California, and while it seems like we're paying a lot of money, it's actually a bargain compared to other places that were way smaller and charging way more.
The only reason we pay so little right now is because we live in a shack. Seriously, you all think I'm joking, but I'm telling you–it's a freakin' guesthouse in a backyard.
We've paid our dues to get out of debt–we downsized, we cut bills, we stopped spending frivolously and eating out without gift cards. We're by no means done with our "paying off debt" journey but we've come a long way baby.
These student loans are now the homestretch. Money will be tight this year, but by next year, I'm expecting a promotion and hopefully Eric will land his firefighter job sooner rather than later. Within the next few years, we're going to pay off my student loans, and we're going to save up for a down payment.
We may not be newlyweds anymore, but we're still on a budget.
Here's a sneak peak of what's going on in our love shack right now: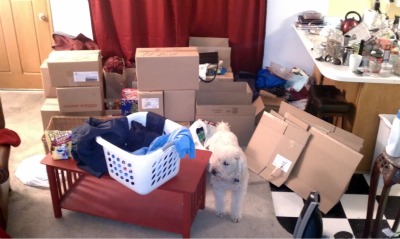 We are so excited to be moving into a bigger home. Words cannot express our joy.
Maybe we'll actually start feeling like grown-ups rather than like we're just playing house?