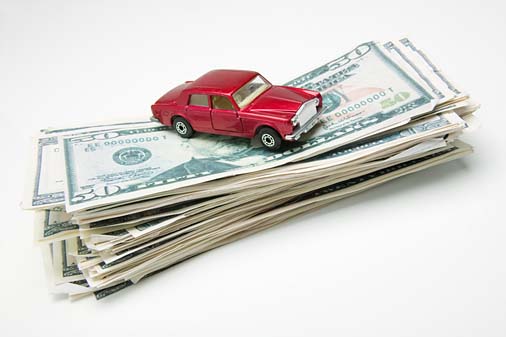 As excited as I get about the beginning of summer, I always cringe a little bit because of the triple whammy we're faced with within a three-month span: Eric's car registration, our insurance bill, and my car registration.
Currently, Eric's car registration is $107 due July 31st. Not bad at all. My car registration typically runs $300 and is due at the end of August (my car is newer than Eric's so that may have to do with the price differential).  Cars that are 20 + years old have some of the cheapest rates, as they qualify for vintage car insurance.
Why we kept our parents' insurance
This new joint bill is the first time Eric and I will be on the same policy. We both had kind of stuck with our parent's car insurance because we assumed it was cheaper. When I was single, I had shopped around for my own insurance provider separate from my parents and the prices were much higher than what I was paying. So I stuck with my parents' insurance.
Shopping for a new policy
For work reasons, we had to get our own joint policy. So I begun the process of shopping around for a policy and read up on the insurance market.
Now, for some reason, I thought this was going to be the biggest pain, and I was very happy when it took me about 30 minutes tops, calling around to a few different insurance companies.  Using an online service I was able to effortlessly find cheap car insurance quotes and then follow-up with the best ones.
In order to get the lowest amount possible for car insurance, I raised our comprehensive deductible from $100 to $500, and our collision deductible from $500 to $1,000. There is no need for a $100 comprehensive deductible. If something happens to your car and it costs less than $500 to fix, you're most likely going to fix it yourself anyway because you don't want your insurance to go up. Same with collision. I was able to save $70 every six months, or $140 for the year, on Eric's policy alone just by making these two minor changes.
For a young married couple like us with clean driving records living in southern California, we pay $742 every six months for car insurance, or $1484 for the year. We also have about $400 in car registration, for a total of approximately $1900 toward our two cars.
One good auto insurance company is USAA.  Their car insurance rates are pretty low and their customer service is first rate.  Also, their webpage is well designed so dealing them is painless and quick.
How we pay for it
Since February, we've been putting away $150 every month into a car fund (an ING savings account) to pay for registration and car insurance. Now that I know the entire total, I realize we're a bit short. Once our finances settle (hopefully by August 1st!), I want to start contributing $200 a month into a car fund, so that we have a buffer for oil changes and car repairs.
How does your car insurance compare?