We are in the market for a new Travel Rewards Card. We've currently been using the JetBlue American Express Card but I've become frustrated with its limitations and plan to cancel it before the annual fee is charged.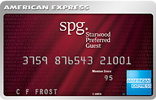 I've heard good things about the Citi Thank You Card, and the StarWood Preferred Guest Amex Card (this one sounds awesome!). Does anyone else have any recommendations?Or do you have any experiences with either of these cards?
Ideally, I'd like a card that accumulates either flights or hotel stays or both. We use our credit cards to pretty much purchase all our everyday supplies, so we accumulate points pretty quickly.
I feel like I'm leaning toward Startwood, but am bummed that I missed the extra 20,000 points promotion by a month (it expired Sept. 4–you received an extra 20,000 points if you charged $5,000 within the first 6 months). I feel like these promotions come around often though so I may just wait for another one…
Thoughts?