I hope everyone had a wonderful Halloween yesterday!
My company gets really into it, and I was happy that most of my department dressed up.
And these were some of the, um, creative, entries in the pumpkin carving contest: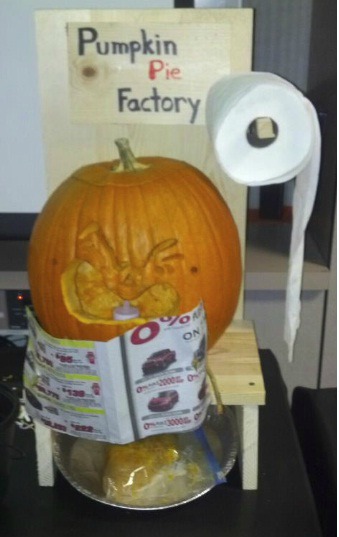 I was super excited about this year's Halloween, because it was the first time that Eric and I would have an actual house with a door to give out candy! The past two years were spent in a shack, and we couldn't give out our own candy…
Earlier in the week, we say all the neighborhood kids playing outside and I told them that we would have lots of candy so stop by our house! We got about 10 trick or treaters overall, which isn't a lot, but I was wappy that we got any to begin with.
Plus, I bought the good Halloween candy. I remember when I was younger, trick or treating and you would stop at the houses that gave you the stupid candy that nobody wanted, so I vowed to always buy good candy, like name-brand.
I love the whole idea of Halloween–I feel like it's a very community-bonding type of holiday. I mean, how weird is it to go to your neighbors' houses and expect them to give you candy?? It's a very neighborly concept.
We ended up making meatless meatloaf and watching a scary movie on Netflix.
All in all, it was an awesome Halloween, and what really kept me smiling all day was that I was able to pay off my SECOND student loan! This loan stood at $1021.45 last month, and thanks to my side hustle, I was able to pay it off yesterday!
This brings our total debt down to $18,696.10! And we've paid off more than 50% of our debt in the past two and a half years.
I must say, I was really bummed this past summer that we weren't making any progress on our goals, or paying off any debt, so I'm really happy that we've gotten this boost recently.
How was your Halloween? We're two months shy of 2013, any last minute goals you're trying to finish up for the year?