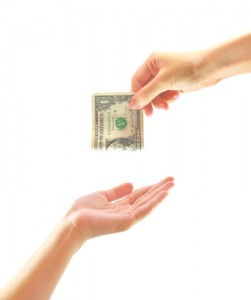 It used to be that the social norm for tipping was 15%. If you got excellent service, you would pay 20%. I don't know what the judgement was if you got crappy service.
It seems nowadays that the social norm is quickly becoming 20% no matter what kind of service you got.
The justification being that prices have increased and so should tips. But if prices have increased, doesn't that mean that their tips have increased too? For example, if a meal at a restaurant used to cost $20, and now costs $25 due to inflation, then 15% of $25 ($3.75) is greater than 15% of $20 ($3).
And while I know that times have changed, it seems that nowadays you are seriously being nickled and dimed at every place you go.
Starbucks? Tip jar. Yogurt place? Tip jar. Take-out? Tip line item on the check.
I can understand when you're getting a special service done, like a hair cut or manicure, or when you're being served at a restaurant–but now tips are expected just for performing the normal duties of your job.
The other day I picked up my pizza at Papa John's and there was a line item for a tip. I don't understand–I'm picking up my own pizza, all you had to do is hand it to me: am I still expected to tip?
When I went to a self-serve yogurt shop, there was a tip jar. Am I supposed to tip you for letting me serve my own ice cream?
I get that people working these jobs usually aren't making a lot of money and the tips help increase their wages, but isn't that the point of an entry-level minimum wage job? They're not supposed to be great work and they're not supposed to pay well.
In fact, they should really just be a starting place for you to learn what "paying your dues" means and to motivate you to get a better job that pays well and where you don't have to rely on people's generosity.
I used to work at a movie theater in high school, and it was seriously one of the hardest jobs I've ever had–standing on your feet all day, and dealing with cranky customers who hate paying $4 for a small soda.
But that job really helped teach me the value of a dollar (oh my gosh, I sound so old right now!). $50 jeans were no longer "oh I'll buy $50 jeans today", but rather "that's eight hours of work!"
What do you think? Is tipping out of control? Or am I being a grumpy old person?