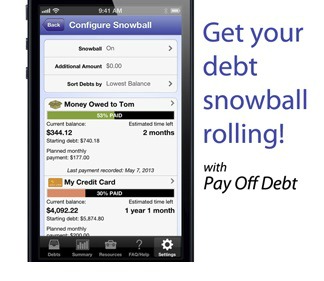 The Debt Myth recently launched a new app that is designed to help you create and use a debt snowball to focus your debt reduction efforts.
The Pay Off Debt app shows your debt snowball, which is a way to systematically pay down debts. Using this method, you pay minimum payments to all debts except one (usually the debt with the lowest balance.) You then pay the minimum payment plus as much additional money as possible to the selected debt. This process is repeated until all of the debts are paid off.
Since starting our pay off debt journey more than three years ago, we have used the debt snowball method to pay off our own debts. I feel like we've really only started making traction recently, and now we have less than $14,000 in debt to pay off (from over $40,000 three years ago!)
To celebrate the launch of this new app, The Debt Myth is giving away an Ipad Mini! To enter, just fill out the rafflecopter below:
Join our newsletter
Get the latest content straight to your inbox.