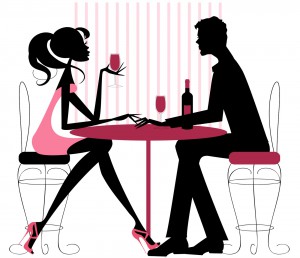 The Scenario
A friend of mine (let's call her Jane) went on a blind date. The young man, once he received Jane's phone number from a relative, called Jane up and invited her out to dinner.
They met up for dinner. He ordered for Jane. When the bill came, Jane did the obligatory "reach for the wallet" to which the Date said "Split it?"
They split the bill.
Jane said the date did not go well.
***
The Question
As women, who eschew traditional gender roles, should we no longer expect a man to foot for the bill? Even on the first date?
Or is paying on the first date, not so much a sign of traditional gender roles, but an olive branch of chivalry? A gesture of good will? An invitation of "I like you, and I'd like to see you again, so I'm willing to make a financial commitment to make that happen" ?
Is it an oxymoron for women to expect to be treated as equals but still want to be wooed? Can we not have the best of both worlds?
For example, as much as I hark about wanting an equal marriage where my partner and I have equal responsibilities–the reality is that it is most likely never going to happen. Relationships are almost never 50-50.
So shouldn't it be okay to be a feminist but still want to be wined and dined–at least on the first date? Would it not be the same if a woman made a home-cooked meal for a man? She does it out of the goodness of her heart, and not because of traditional gender roles.
Is it okay for us to want to be seen as equals but still want to be treated as ladies?
Who should pay on the first date?
image source