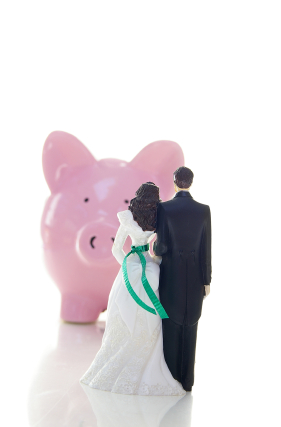 Eric and I had a disagreement about money this weekend. We don't usually disagree often, but when we do, you can bet that 90% of the time it's about money.
This time it was something we've discussed many times before: how much money Eric spends on food while at work.
Working 24-hour shifts, Eric is responsible for paying for his own dinner at the fire station. The guys that work the same shift, all pool their money together, and with that money, they purchase groceries for the evening. At his new station, Eric only has to pay for his portion of the dinner groceries (as opposed to breakfast and lunch).
He eats breakfast at home, and is on his own for lunch, meaning he can either bring something from home (like I do every day), or buy something. He can also bring snacks from home.
However, the last five 24-hour shifts Eric worked (which is considered a full work rotation), he spent a total of $144, or almost $30 a day.
Considering he only has to pay for dinner, I was pretty angry. How in the world is he spending $30 a day when he is allowed to bring food from home and only has to pay for dinner?
Then the excuses started:
I buy snacks at the store

I use the Amex to buy groceries and then the guys reimburse me (and that means of course, Eric pockets the cash)
I've used some cash for other things, like tipping for a service
Between me being angry and frustrated and Eric getting mad that I was making him account for his expenses, we were getting nowhere.
We took about 10 minutes apart to cool our heads and then I tried a different approach.
Let me explain why I get angry about you spending $144 on food, I told him. I don't care that you spend money. I don't care that you spent $90 at the chiropractor, or that you bought $70 shoes to workout, or that you want to buy a specially-tailored $150 shirt. I think those are good investments. 
I get mad when I think you're being wasteful with money–and when you're spending $30 a day on random coffee purchases and snacks that you can't even account for, that means you're being a little trigger happy with our finances. 
I would really appreciate it if you could make a more concerted effort to be more mindful of what you're spending money on.
When I was able to explain myself in a calm and collected manner, Eric was better able to understand where I was coming from in regards to our finances and he completely got it.
I felt like money was being thrown down the drain on these small purchases that Eric kept making that quickly add up ($5 coffee here, $6 fast food lunch there, $8 snack attack here…). We both agreed on a reasonable budget that Eric could stick to, that would allow him to make small purchases but that would also encourage him to stick to a budget.
It wasn't always this easy for us to resolve disagreements about finances, but I'm really glad that we've been able to get to this place.
How do you and your spouse resolve conflicts when it comes to finances?