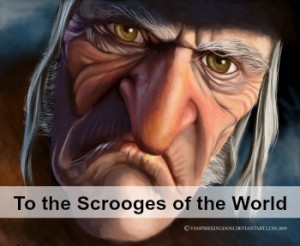 Hearing people complain about Christmas music playing in November is as much a sure thing as Miley Cyrus sticking her tongue out in her latest photo opp.
Look, I get it. It's not Christmas until December, "What about Thanksgiving?!", stores putting out decorations in September…etc.
But I'm here to defend the spirit of the season.
I was trying to hold out until after Thanksgiving this year, I really was.
But with the time change, and the nights so dark as I drive home at 5 pm, and when it dips below 70 degrees and I get to wear a jacket (hey, to this SoCal girl, anything below 70 screams "WINTER!")…that's when it starts to feel like the holiday season and my car radio switches to the 24/7 Christmas music station.
And to me, Christmas music is a part of the holiday season. It's not so much that Christmas music in itself is go great—it's about what Christmas music represents, and that's the holiday season.
The way I see it, November is all about being thankful for the year and all the blessings you've received, and Christmas is all about enjoying those blessings, like spending time with your family. To me: the holidays are a feeling.
A feeling of being blessed, of being grateful for the safety and company of my family, of hot chocolate and fires in the chimney and cuddling with my husband and dog. The holidays are the time of year where I feel really connected to the rest of humanity.
It's that time I feel like we're all in this together and we really wish each other joy and happiness. My road rage goes down, my charity giving goes up, my heart feels full.
Yes, we should be caring and giving the whole year. But you know what? I have sh*t to do the rest of the year.
Most of the time, we're just trying to get through life—between a full-time job, full-time graduate school, family and friend commitments, exercising and reality TV… I get by day by day, just like everyone else.
The holiday season is that time of the year where I get to step back from the day to day minutiae, and really reflect on the year, count my blessings, and sing along to Christmas music.
Yes, we should all be thankful year-round—but frankly, we're just too busy living to actually spend time reflecting. SO I'm okay with people posting their 30 days of Thankfulness on Facebook–because as repetitive and cheesy as it is, at least people are being thankful, right?
Who cares that they're only doing it because of Thanksgiving? That's what we're supposed to do, right? Give thanks?
So, if you want to, go ahead and complain about the Christmas music and how much you hate it because it's not even Thanksgiving, and bah-humbug how dare they sing of reindeer and snowmen?!
But I'll be over here blasting the car radio to "It's the Most Wonderful Time of Year."
Season's Greetings.