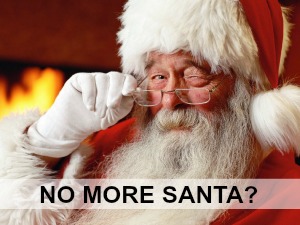 The first time I read about a family who was not allowing their children to believe in Santa, I disregarded it as an anomaly.
However, a few weeks later, and I've now come across three different blog posts declaring why they won't let their children believe in Santa Clause.
Is this "a thing" now?
And if it is, I feel like there is just nothing left to hold on to from the "good old days."
I know better than to leave nasty comments on other people's blog posts ("Do unto others as you would have them do unto you") but this has seriously gotten me so hot and bothered that I can't even think clearly.
What the hell is wrong with a jolly fat man?!
One of the main reasons given by parents for going against the Santa fantasy is that they don't want to lie to their children.
Lying–like it's the worst thing in the world to lie to your children. First of all–it's called "make-believe," "pretend," "imagination." Take your pick.
And second of all–if you happen to raise the first child in America who has never told a lie,   then you deserve a freakin' Nobel Peace Prize. What is with all the parental self-righteousnous these days?*
I gag in protest.
Another reason parents cite in their defense is how it confuses children between reality and fiction, and how it doesn't teach children the real meaning of Christmas–which is about Jesus.
Um, what?
Children have been growing up with Santa for decades and I've never come across anyone who was permanently scarred when they realized that the big fat man who brought you presents wasn't real.
Furthermore, Parents, I think you're really underestimating your children. Children are wickedly smart and pick up on social clues a lot more often than parents give them credit for. There is no "confusion" here.
And how does Santa not represent what Christmas is all about?
If you want to make sure your children realize that Christmas is really about Jesus ("Tis the reason for the season" after all), Santa is a perfectly good steward of the message of Jesus Christ: which is to love thy neighbor, and Santa loves all children and gives regardless of socioeconomic status or race.
Can I get an "Amen" up in here?
***
I honestly can't believe how riled up I am over this.
To me, it is such a stupid, silly little thing, but I can't believe it's become so much of an issue that parents won't even let their children believe in such a big part of the magic of the holiday season.
I have nothing but warm memories of all the things my parents and extended family would do to make us little kids believe in Santa. From presents magically appearing on our doorstep to my uncle shouting "ho, ho, ho" from the chimney, I smile at these stupid silly little things and it saddens me to think that children will purposely miss out on that.
I get that parents have every right to raise their children the way they see fit. But this is one instance where I strongly disagree.
What's next? No more Mickey Mouse? Mo more Sesame Street (talking puppets?!?!? now, that's a lie)? Where do we draw the line?
Meg from Moments Like This sums it up best:
I don't think Santa makes or breaks a Christmas, I just think he's kind of like the icing on the cake.

I also think this no lie about holiday figures (Santa, Easter Bunny, or even the tooth fairy or what have you) is another way we are forcing our children to grow up so quickly. To me, Santa is an iconic figure that symbolizes the fun and mystery and innocence of childhood.
Everyone does what they think is best for their children. But as for me and my family, we are Pro-Santa all the way.
Is this one example of political correctness going too far? Is the magic of Santa past its prime? Are you pro or anti Santa?  
*this comment is not directed at ALL parents, because I have some really cool friends who happen to be parents. Right now, this anger is pretty much directed to parents that belong on this blog.