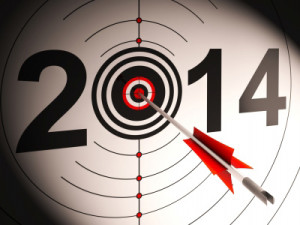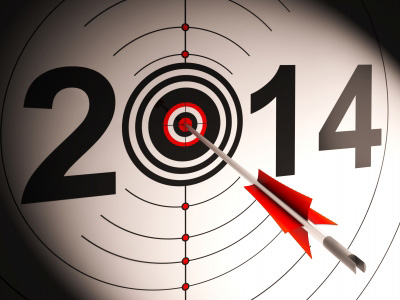 I've had lots of goals in years past. But I have only TWO goals for 2014.
1. Save, save, save
With enough money in the bank to pay off our $11,000 in 0% interest debt, pushing the button and switching to "We're debt free!" is just a matter of logistics.
In 2014, we're focused on SAVING.




Our income in 2014 is expected to be more than double what we were making in 2011.  Oh yeah, these Newlyweds on a Budget are moving on up to the big leagues…
SO what are we saving for?
A house down payment, a car, and life. We've talked about our five-year plan to buy a home. We've crossed off a lot on that list but not necessarily in order. We do plan on buying a home within the next several years but we're not on a strict deadline. The goal right now is just to SAVE so that when we are ready to buy a home, we will have a sizable down payment.
We will also need a new (to us) car either late next year or in 2015. So let's start saving now so that we don't have to rack up another car loan, or at least keep it as minimal as possible.
The goal is to save $30,000 next year.
$20,000 in our house down payment fund, and $10,000 in our car fund. It is an audacious goal but I am confident that we'll be able to pull it off. Especially if I can stop spending my freelance income and actually start saving it again.
2. Have fun.
For the past few years, I've been so stressed over our finances that I would freak out over little unexpected expenses.
I don't want to do that anymore.
I want to be able to make purchases and not worry about how we're going to pay for it. I want to go out to dinner and not worry about ordering an extra glass of wine.
I want to donate more to charity. I want to go out more often with my husband. I want to go to concerts.
I want lifestyle inflation, people! 
I'm not talking "rolling-in-the-dough, driving Bentleys, sipping bottles of Dom Perignon on the weekends" kind of lifestyle inflation.
I'm talking about being two young successful thirty-something DINKs who enjoy nice dinners out and random weekend getaways (oh em gee, I turn 30 in 2014!).
While 2014 may not have any vacations in our future because of Eric's new job, I at least hope that our everyday lifestyle will be less about worrying over money and more about enjoying the money we earn. 
2014, I've been waiting for you, and mama is ready!