One of our personal goals last year was to eat better–so our journey to clean eating began.
To us, clean eating is all about eating whole foods, eating organic as much as possible, and cutting out a bunch of processed junk.
That doesn't mean we eat "low fat."
In fact, we eat bacon pretty regularly and butter too!
And we've both still been able to lose weight–just by sticking to eating whole foods, mostly clean.
I started out 2013 by adopting a mostly Paleo lifestyle and lost about seven pounds pretty easily within the first month. Eric finally jumped on the bandwagon a few weeks after me, and he lost close to 20 pounds in a month–effortlessly, just by following Paleo.
While some may claim Paleo as a lifestyle, we found it pretty difficult to maintain. No pasta ever? No pancakes? No cake? WHAT?!
Instead, Eric and I used the Paleo diet to launch us into the world of clean eating. The more we started to learn about what type of food we put in our bodies, the better we felt about the decisions we were making.
On any give day, here's what you'd find in our fridge:
Veggies, such as broccoli, cauliflower, zucchini, green beans, spinach, mushrooms 

Fruits, like bananas, organic apples, frozen mango, frozen peaches
Protein, like organic eggs, organic ground beef, ground turkey, chicken meatballs, organic chicken breasts, real bacon (not that Farmer John crap), frozen wild caught fish
Healthy carbs, like brown rice pasta and Ezekiel bread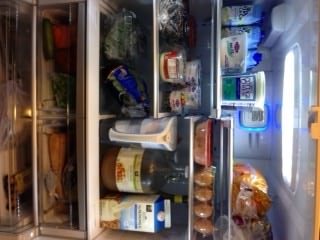 We limit our dairy, drink almond milk, and try and avoid corn or soy-based products.
Clean eating is different for every person and the more we learn about the food we eat, the more we try and make better decisions.
Food for us is much more fluid than it used to be and this journey toward clean eating has really helped improve my overall relationship with food.
I no longer consider any foods off-limits. I plan ahead and eat well most of the time. But if I'm craving something, for example, pizza, I will let myself have a slice and I won't punish myself for it.
When I eat well 90% of the time, I am okay with indulging my cravings the other 10% of the time. (Around the holidays, I will readily admit it was more like 70/30).
I no longer consider anything a "cheat" but rather a "treat."
This new mindset has really helped reduce and almost completely eliminate my need to "binge" on bad food.
I don't know about you, but there were plenty of times where I would fall off the wagon and just go overboard on junk. I would eat just to eat, sometimes stuffing myself to the point where I would make myself physically sick.
I don't do that anymore and haven't done it in several months. This is a huge win for me.
Nowadays, I'll indulge when I feel like it, but the desire to eat bad foods is barely there.
Getting to where we are now has been a long process.
These are some tips that helped us on our journey toward clean eating:
Start Small. My very first goal was to stop buying foods from the Dirty Dozen list. Once I learned that apples have the highest amount of pesticides, I chose to only buy organic from that point on. I mastered the Dirty Dozen list and slowly started to incorporate other items on an as-we-can-afford-it basis.
Do What You Can Afford. To us, eating this way is a priority, so we will happily forgo buying other things in favor of eating whole foods. When we first started, all we could afford to do was buy organic apples. And that's okay. But slowly and surely, we made clean eating more of a priority and slowly started incorporating other items–like organic chicken, grass fed meat–and even though I swore I would never buy organic eggs, those are definitely a staple in our house now.
Educate Yourself. What's important to us, may not be as important to you. The more I learn, the better decisions I can make about what's in our food. Some of my favorite blogs in regards to learning about food include Mommypotamus, 100 Days of Real Food, and Food Babe.
Read labels. My shopping experience takes me some time because I am always reading labels and trying to avoid words I can't pronounce, GMO corn, maltodextrin, carrageenan and added sugar, among others. The amount of sugar that is in food is ridiculous. We get enough natural sugar from fruits and veggies that you really don't need added sugar anywhere else. Still–that doesn't mean I won't have a chocolate chip cookie every now and then.
I am so proud of ourselves for making so much headway in our clean eating journey in 2013 and hope to continue the trend in 2014!
What type of food do you eat? Have you considered clean eating?