Every year, I like to do a review of our finances. I think it helps to sort of check in and see how you're doing financially and if you're meeting your financial goals.
Now that I have a couple of years' worth of data collected, it made things a bit more interesting.
For example, here is how our take-home income has increased over the past few years. This is after-tax, after 401k-contributions. This is only money that goes into our bank accounts from our day jobs, and does not include side hustle income.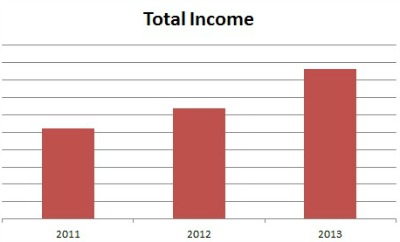 Cool things to note:
In 2013, we made 40% more than in 2011. 

In 2014, we expect to make more than double what we were making in 2011.
Where did we spend our money?
For every $100 we earned, this is where most of the money went:

 Cool things to note:
Our Rent & Utilities includes rent, utilities (electric, gas, water, cable, internet), cell phone bill and house cleaning.

Even though our rent and utilities have increased, our transportation costs have decreased substantially, thanks to not having a car payment and living only 10 minutes from where I work. We're actually spending a smaller percentage of our income on living costs than in 2011– 37% in 2013 as opposed to 43% in 2011. 

Even though we spent $2,000+ more on groceries this year than last year, our total ratio actually went down because our income was up. I definitely plan on working on our grocery budget this next year. We're committed to eating organically as much as possible, but spending $500, $600, sometimes even $800 (!) a month on groceries is ridiculous in my opinion…
I never tracked my own spending in 2011 and 2012– I just knew that I spent substantially less than Eric. This year, I finally started tracking, including my mani-pedis and my hair care. For every $100 we earned, $4 went to me and $5 went to Eric. So Eric spent about 20% more than me in 2013. He spends money on food, food, and food. I spend money on personal grooming, and going out with friends.
SAVINGS! WOWZA! I am so impressed with how much we've been able to increase our savings this year. This should help with that big audacious goal we have of saving $30,000 in 2014.
Travel–Even though we traveled to New York and San Francisco this year, the bulk of our travel budget comes from the Side Hustle, which is why we haven't spent much of our own day-job money on travel.
In the end, here is what I thought our 2013 budget was going to look like: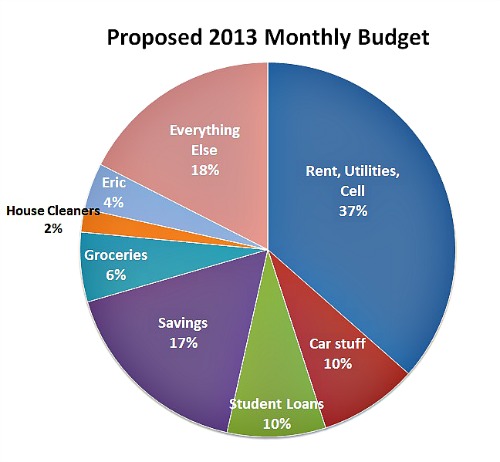 And here is what our 2013 budget actually ended up looking like: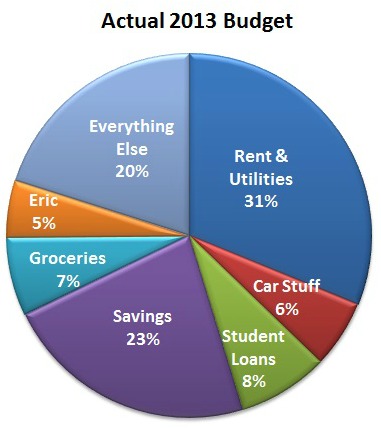 2013 will be remembered as the year I paid off my student loans and Eric got hired as a firefighter. 2014 will be the year we finally start saving for our future rather than paying for our past.