I try and keep track of every single penny Eric and I earn and spend. It's not too time consuming and I enjoy it. I decided to compare how our money was spent last year, as opposed to this year because we've had a LOT of changes.
For every $100 we earned, we spent on …
2011
2012
Rent and Utilities               $26                               $29.50
Transportation                   $17.40                         $10
Food                                    $13                              $10.50
Eric                                     $9.50                            $7
Savings                              $8                                 $6.50
Travel                                 $5                                  $0
I honestly didn't do that great of a job tracking our budget this year, as my spreadsheet was semi-confusing at times. I planned things out much simpler for next year though. Any cases where you see the spending go down, can largely be attributed to our increase in income.
I am happy to report that my income has increased by 28% since I started my job two years ago! And I hope that my income will increase another 10% after I get my master's in March 2015! If that happens, that would be a 40% increase in four years!
I hope to get back on track with monthly spending updates, which I failed at doing pretty much this entire year. Here is what I hope our 2013 budget to look like: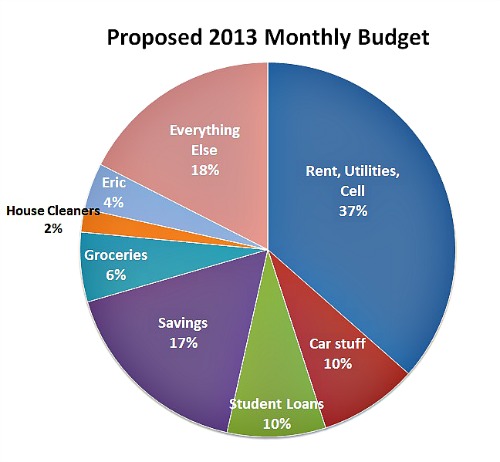 We've been very loosey goosey with our budget recently, and it's shown in our poor financial decisions. Our biggest financial goals for this year include:
Increase savings substantially
Pay down student loans substantially
Save up for new car
Pay for graduate school as-we-go and do not take out any more loans!
In order to make these happen, we have to be more strict! Time to get back on the pay off debt wagon!