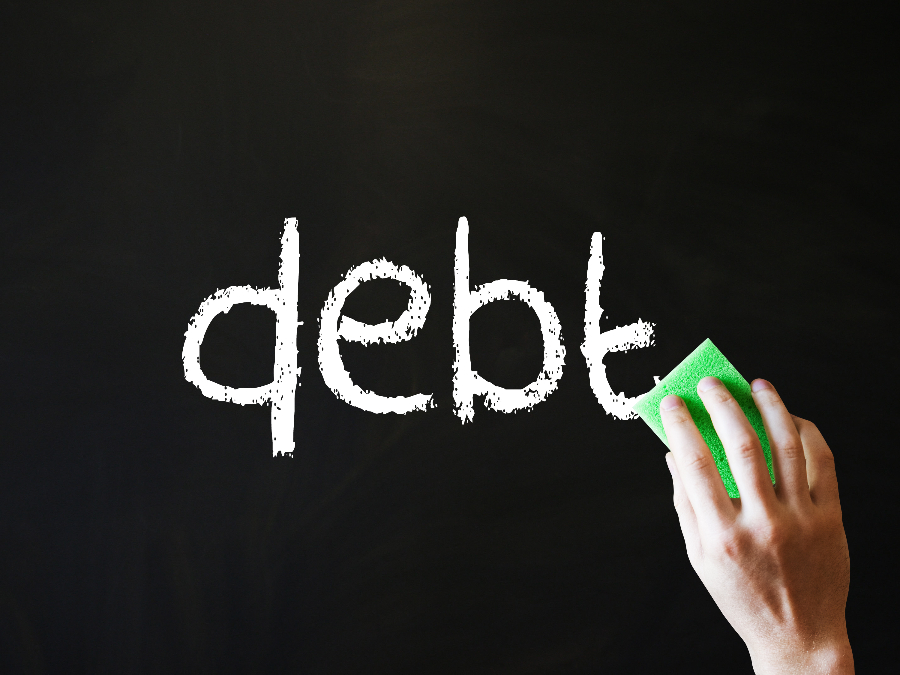 This week's payoff debt story comes from Lisa at Lisa the Vegetarian. Read about how she paid off almost $100,000 in student loans. If you'd like to submit your debt payoff story, email me at newlywedsonabudget at gmail. 
When I was in high school, I had big dreams. Big dreams of leaving Boston, of finding my independence and of making it big in the big city of New York. When I was applying for colleges, even though I applied to 6 different schools, there was only one school that I really wanted to go to: NYU. When I found out I got in, the decision-making process for me was an easy one, but my parents had a little more to say on the matter. They knew that if I accepted the offer, the debt I'd be taking on would be enormous.




I was intent on following my dreams, and it's not that I was ignoring the money I'd be spending, but I knew I only had one chance at this college thing and that I would always regret my decision if I didn't follow my heart.
Accepting $95k in student loans to follow the dream
So, I went to NYU. I had a great time, got to have some experiences that simply wouldn't have been possible anywhere else, and had a full time job lined up a few weeks before graduation. I never had any illusions that I'd be making great money after graduation, so I was completely fine with taking a job with a very entry level salary back home in Boston. I moved back in with my parents, and then came face to face with my debt.
How much was it? The grand total sat somewhere around $95,000. It was painful. My interest rates were moderately high (almost 6%, which for that kind of balance is crippling), and my monthly payments were the equivalent of a rent payment. Obviously I couldn't go out and find my own apartment with those kind of numbers haunting me.
Making sacrifices to pay off debt
I lived at home for that first year and a half, and that was definitely what put me on the right path toward paying off my debt. I only had to pay for gas, my cell phone and insurance, and aside from those things, almost every single dollar I earned went directly on my loans. I would put aside a tiny bit every month into a savings account for emergencies too.
It was only a month later that the car I had been driving died for good and I was forced to go out and shop for a car. I knew I definitely wanted a used car, and I had enough saved up in my savings account that I could buy a car outright. This was really the only thing I was willing to consider, even if it meant getting not so nice of a car, but there was NO WAY I was adding more debt to my situation.
Every extra dollar, whether from a work bonus or a tax return, went straight to Sallie Mae. The interest rates on my loans there had a variable rate, and I was always terrified that they would keep going up. I knew I was already paying an arm and a leg in interest, and that was one of the things that motivated me the most to get them paid off for good.
After that first year and a half, I had made good progress lowering the balance a bit, and I had also gotten a few raises at work. It was finally time to move out on my own! With a rent payment in the equation, I redid all my budgets and had to stop putting as much extra money every month on my loans.
How I Paid Off My Student Loans
From the beginning, the best way I found to making things feel more in control with my debt was to be obsessively organized about it. I LOVED making spreadsheets with all the numbers. My most detailed one included all the interest I was accruing every month and a calculation of every dollar of interest I was saving by making extra payments. I wish I had kept up with that one, because I would love to know now how much interest I saved myself over the years.
Another thing that helped me get to the end of my debt, though beyond my control and due more to good fortune than anything, and as strange as this sounds, was the decline of the economy. I graduated college in 2005, before things started to go down the drain in America, and thus my interest rates were high. After a few years, they miraculously started to decrease. Every year, it seemed, they got lower until they hit 2% at the very end from more than 6% at the beginning, that was huge!
After the initial two years or so, I pretty much got into a rhythm. I didn't obsess over the debt so much, but I always paid extra money and never really stopped putting all the extra/unexpected money that I received right onto the bills. I kept moving up at work and I always stayed on top of them.
The Freedom of Being Debt-Free
Finally, just this past November, I made my very last payment. As of November 30, 2012, I am debt free! It took 7 years, which was 8 years quicker than I needed to have them paid off (it was a 15 year loan), and the freedom now is incredible.
A lot of people ask if I regret the decision I made for college based on the debt it left me with. The answer is a resounding no! I wouldn't trade the experiences I had at NYU for anything, and I know there are things I did there that wouldn't have been possible at any other school. Also, I think in the back of my mind, I knew I'd be able to manage money well after college and wouldn't be irresponsible about it.
I'm still getting used to a life without massive student loan debt, but it's a really good feeling. And now, I'm doing something new with my money: saving it for a down payment on a house!