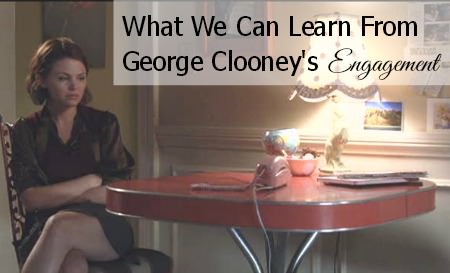 So the world's most eligible bachelor got engaged and thousands of broken-hearted single girls everywhere screamed a silent "WTF?"
I don't think there's ever been a case more prevalent to prove that he's really just not that into you.
How silly of us. All this time, and we thought it was just a clever cliché.
Lots of hot girls loved being graced with the title of "George Clooney's arm candy," but since he has adamantly insisted that he would never marry, no one was really ever surprised when the relationships would fizzle.
I almost smirked when Elisabetta Canalis got all furious when she was dumped…like come on, honey, did you really think you would be the one to change his mind?
And yet, women tried. Over and over again.
When men say "I don't believe in marriage," it's as if we take it on as our personal mission to declare: "Wanna bet?"
I watch a ton of trashy TV. Seriously, a ton. I have no shame in my game.
But the one show I could never bring myself to watch was The Bachelor.
Women fighting over the superficial affection of a man who obviously wasn't hot enough or secure enough to find a girl on his own in the real world?
No, thank you.
I never wanted to be one of those girls that fights for the affection of a man.
After a 4+-year relationship ended in my early 20's, I was a dating queen. It's nice to be doted on, right?
But there was one guy—the Rebound—whom I fell hard for. It was only after a few weeks that I realized I was way more into him than he was into me—and I just couldn't have that. So I quickly shut it down.
My friends, of course, made fun of me. They always told me that I couldn't expect for guys to be serious after just a few months. But I stood my ground.
A few months is plenty of time to decide if you like someone enough to see where it goes.
If I was dating a guy, I wanted him to be crazy about me, not lukewarm. I didn't want to be an option, because I knew I was worthy of being a priority.
I knew I had made the right decision in letting the Rebound go when he came crawling back a few weeks later.
It turns out that when I told him I didn't want him, it just made him want me more.
Crazy how that works, huh? Like, when has anyone ever wanted something they couldn't have?
Anyway, that ended up fizzling and I went on to date a string of guys that really liked me and that I sort of liked. Some of those relationships were sort of to pass the time. They were nice guys, and I definitely felt like they were someone I should be with because they were nice.
But they didn't have that "wow" factor. That "keep me on my toes" factor. That "I can't live without you" factor.
In fact, it wasn't until I met Eric that I felt like I had finally met my match. He was the one that made me turn into Ginnifer Goodwin staring at my cell, taking it into the shower with me, because I would lose my shhhhh if  I missed a call from him.
And then when he would finally text, I would start my timer and make myself wait five whole minutes before I replied.
Oh yeah, I was cool.
After about two weeks of this nonsense and realizing that I was turning into that girl and getting scarily close to just becoming George Clooney's arm candy, I finally told him that if he ever wanted to hang out with me again, he better give me more than 48 hours advance notice.
That night, he showed up at my place with chocolate and cheese (be still, my foodie heart), and a week later, I told my mom I was going to marry him. And sure enough, we were engaged a month later.
What am I getting at?
Be better than George Clooney's arm candy.
Unless you want to be arm candy, then that's okay too. But if you don't, if you want the commitment, and the respect, then don't settle for being arm candy.
When a man says he doesn't believe in marriage, believe him.
I'm no expert in relationships—not even close. But it breaks my girl-power heart to see so many women throw themselves at men, try to change them, and relegate themselves to becoming options rather than priorities.
I don't know much about George's new girl, except that she seems incredibly smart and successful and seems to have her own life independent of Clooney's. It makes me wonder if that had something to do with it…