Psst…have you entered my $100 Amex giveaway?
For my 30th birthday, Eric and I stayed at the all-inclusive Hotel Riu Palace in Cabo San Lucas and we had the best time!
If anyone is ever in the market for a Cabo hotel, I highly recommend the Riu Palace (not the Santa Fe, which is its cheaper little brother hotel next door).
The staff was absolutely incredible. We didn't run into one rude staff member while we were there.
Not five minutes would go by without a staff person asking if I would like another drink.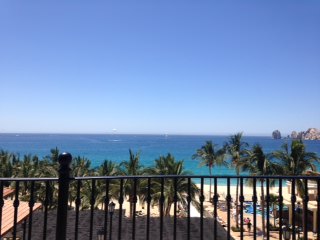 Eric and I spent most of our days at the pool. You were free to just relax and lounge and have the drinks keep on coming, or you could also participate in the several activities they offered, like pool volleyball, ping pong, dance competitions. I mean, they had a lot of activities throughout the day so you never got bored of just sitting at the pool.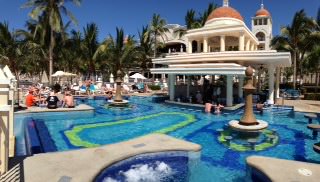 In the evenings, we would enjoy the corny but very entertaining shows, like the Vegas-style and Broadway songs. Our favorite though was the "Ideal Couple" show–it's a can't-miss!
The food was decent. My expectations weren't super high for an all-inclusive, but there were enough options that you could definitely find something to suit your palette.  I liked the food, and Eric really loved it. 
The Riu Palace offers a buffet, and four different sit-down restaurants. Some nights they would hand make the tortillas and you could make shrimp tacos–SO good!
The rooms themselves were pretty large in comparison to other hotel rooms. The beds weren't super soft, but it was fine. We did enjoy the towel animals that the maids would set up.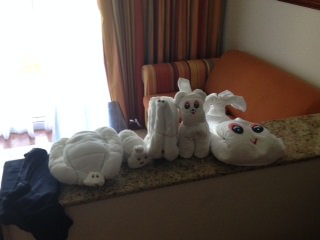 It also averages about $225 a night for two people. We normally can't find hotels for less than that a night, nevermind hotel and food and drinks. I think this hotel is an absolutely steal.
When I go on vacation, I'm one of those people that doesn't like to go to the same place twice. But I definitely see myself going back to this hotel. Eric and I just had such a wonderful time and it was a different vacation experience than what we've had in the past.
It was way hard coming back to reality, I'll tell you that.
I was not paid for or compensated in any way for this review. I was just really happy with our stay and wanted to get the word out. Honest opinions are 100% mine.