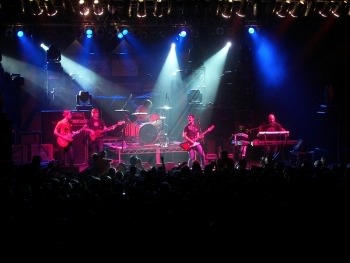 As part of my goal to increase our lifestyle inflation, I really want to go to a concert this year. In the past, there would be concerts I would like to go to, but I found the cost to be prohibitive.
We did manage to go to a Prince concert because I was able to score seats for $25.
But I really wanted to go to the Michael Buble concert (don't judge me!) last year and wasn't able to because of the cost.




SO this year, I've been on the lookout for a concert that I would like to attend.
I considered Justin Timberlake—but don't think any of my friends would want to go with me. Plus, I've already seen him in concert (it was really good, and Kanye West made a surprise performance!)
Then I considered Lady Gaga, but the tickets were so expensive.
Then I figured I would try and get tickets to the Jay-Z and Beyonce "On the Run" tour, but at an average of $300 a pop, I couldn't justify the $600 expense for something that is not on my bucket list.
Plus, I already went to a Beyonce concert several years ago too, when she toured with Robin Thicke—that was also a really great concert.
I think at most, I'd be willing to spend $150…maybe $200 for a concert ticket. And I would have to really want to see the performer.
Like, I really want to see Elton John live (again, don't judge me!) and have thought about doing a Vegas trip for the specific purpose of seeing him in concert.
I even strongly considered going to Vegas to see Britney in concert (I said stop judging me!) until I realized pretty much all her shows are sold out.
Some of the concerts I've been able to go to in the past, that weren't even that expensive, include Coldplay, Maroon 5, Justin Timberlake, Adele (twice), Dave Matthews Band, John Mayer, Beyonce + Robin Thicke, Blues Traveler, Hanson (okay, I give up, you can judge me…).
The exorbitant prices for concerts these days has me wondering:
Who is buying these expensive concert tickets???
I see people younger than me posting on twitter and social media about the Beyonce, Jay-Z concert tickets and I have to wonder…there's no way that all these people just have $300 laying around for one ticket.
What am I doing wrong?
Maybe one day when Eric and I are old and rich, we can buy decent enough tickets for all the musicians we want to see (or that I'll drag Eric to), but until that day comes, I don't see very many concerts in our future.